More than just an exhibition, show and exhibition of wedding art, ELLE Wedding Art Gallery 2020 is a must-see destination for those who are passionate about fashion, art and are looking for valuable information. a dream wedding.
After a delay in the launch due to Covid's evolution in August, ELLE Wedding Art Gallery 2020, jointly organized by Elle and White Palace, will return to couples preparing for a happy day, partners and gender. grave on October 3 and October 4, 2020 at White Palace Convention Center.
The art space displays hundreds of dream wedding dresses
ELLE Wedding Art Gallery will offer the largest art gallery ever, which will showcase hundreds of wedding outfits from the most prominent brands and designers in Vietnam. Besides, there is the appearance of the wedding service providers arranged in an exhibition space full of art and concept.
Inspired by the pure white color of the wedding dress and the feeling of being in the clouds on a happy day, the whole space of the event is inspired by the pure white fluttering clouds. From the wedding gown gallery area to the performance stage and the exhibition area, all are designed according to each theme, promising to give you the feeling of stepping among the clouds when visiting. event.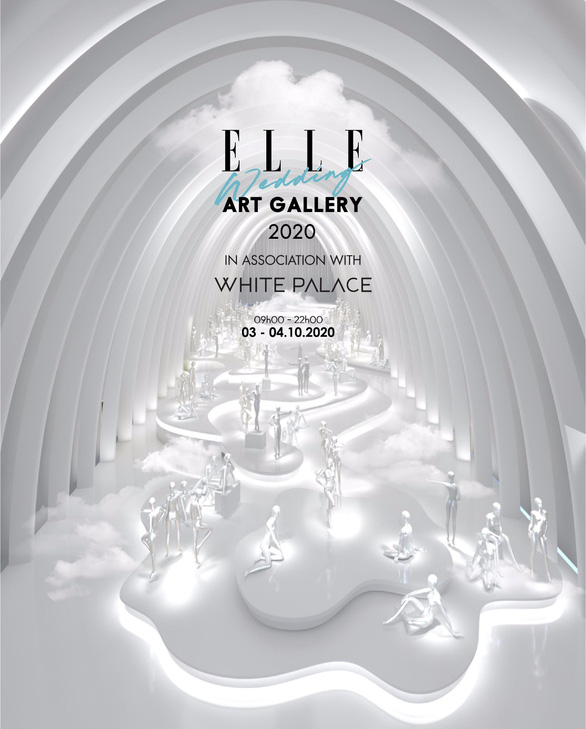 The names will launch the latest wedding fashion collections
Combining the magnificent and poetic atmosphere of the exhibition are famous designers, capable of orienting in the field of wedding fashion in Vietnam and prominent brands in the field of wedding services. Who are they?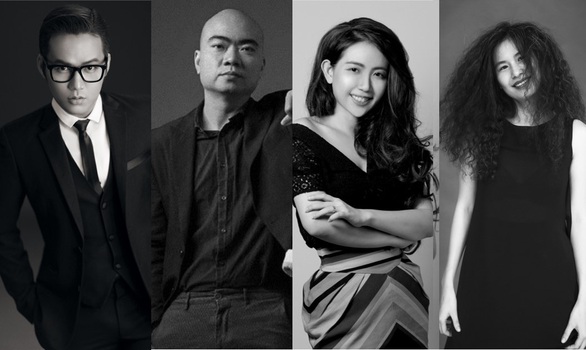 Designer Truong Hai with his "Eternity" Collection is inspired by ancient cities and ancient sculptures in Europe. In this collection, you will see wedding dresses made with the technique of "fabric sculpture" for the first time.
"Dear My Princess" collection is done by designer Chung Thanh for 6 months. Each design of the collection will be a magic wand that will turn future brides into splendid princesses on their big day.
Designer Pham Dang Anh Thu with his Joli Poli brand will send you a collection of "Kiss from the cloud". Each wedding dress shows the volatility and romance as the name of the collection and is also the unique style of Anh Thu.
Designer Thuy Nguyen's "Find someone in my dreams" collection will include wedding dresses that have a deep feeling but still do not lack the spirit of innovation and trendy.
As a new brand in the field of wedding fashion, Decos is the name chosen by many stars for their costumes. Launching a wedding dress collection for the first time at the Elle Wedding Art Gallery, Decos promises to bring a new breath to this year's wedding fashion. Adam Store, Linh Nga Bridal, Omni Bridal, Thuy Bridal and other prestigious brands will come together to bring you personalized clothing choices for their big day.
A destination with everything you need to prepare for your wedding day with attractive deals
In addition to the designers, the event has the participation of a series of leading wedding brands: White Palace, CAO Fine Jewelry, Leaves Changchun, Omni Bridal, Linh Nga Bridal, Adam Store, Decos, Kim Tuyen Bridal, Thuy Bridal, Ohara Hautecouture, Vanilla House, TuArt Wedding, Ngoc Huy Studio, Nupakachi Wedding, Forever Wedding Cards, Peonies Wedding Cards, Moon Weddings & Events, Chocolate Graphics, Nghe Art Wedding Shoes, Huy Thanh Jewelry, Cama Wedding, Jemmia Jewelry, Em Wedding Acoustic, PAT Image, Shine Bright Wedding & Event Planner, Fusion Resort, La Veranda Resort Phu Quoc – MGallery, …
Whoever you are, no matter how you want your big day to go, sweet or luxurious, sophisticated or minimalistic, modern or traditional, this exhibition will bring a lot of ideas and ideas. can satisfy even the most perfectionist guests. Besides, all other concerns about a beautiful, aesthetic and delicate wedding will also be consulted and answered by the most professional Vietnamese suppliers at the event.