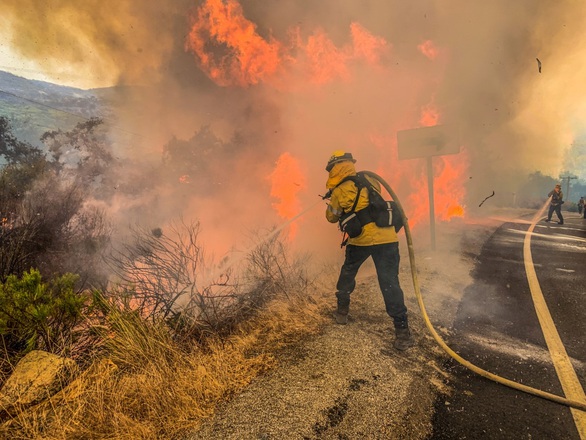 Firefighters attempt to put out a fire in California on September 6 – Photo: REUTERS
According to CNN, 80% of homes in the Washington state town of Malden and many of the neighboring Pine City homes have been destroyed.
"The scale of this disaster is truly ineffable. The fire will be extinguished but a community has been changed for life. I just hope the fire will take away nothing but homes. He was out in time, "Whitman County Sheriff Brett Myers said.
The blaze in eastern Washington was so strong that due to high winds and low humidity, the authorities had to alert all fire forces. On the afternoon of September 7, another fire broke out and the authorities had to knock on the doorstep to call on people to evacuate.
More than 75 major forest fires are raging across the United States, with California being the hardest hit.
The California fire force said on September 7 that wildfires had burned more than 800,000 hectares of forests in the state, while smoke rising from the fires blocked fire fighting efforts and rescued dozens of people. stuck.
A number of communities in Fresno County, in the northeastern part of the state, were ordered to evacuate. Due to the rapid spread of wildfires, it is estimated that dozens of people were trapped. According to the Fresno County Police, this was an unprecedented disaster in Fresno County.
Firefighters state of California confirmed during the past 33 years, never up to 800,000 hectares of forest burned down in just 1 year. That is not to mention the dry season that often leads to forest fires, it is still about 2 months before it ends.
Statistics show that fires in California in 2020 have claimed the lives of at least 7 people, about 3,800 structures damaged or destroyed. Currently more than 14,100 firefighters are participating in putting out fires at 24 forest fire sites. Meanwhile, the "scorching hot" heat with a record high of 49 degrees Celsius in California on September 6 has made it more difficult for the firefighters.