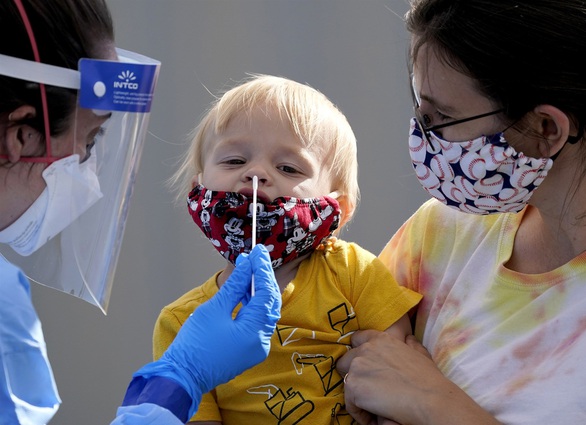 A 1-year-old baby was sampled for COVID-19 in Seattle, Washington on August 28 – Photo: AP
According to CNN, the data published by the above groups shows that from August 20 to September 3, the United States recorded an additional 70,630 new cases of childhood infections. The 16% increase over this two-week period brought the total number of children with COVID-19 in the US to at least 513,415.
"These numbers are a chilling reminder, showing why we need to take this virus seriously" – the president of the American Academy of Pediatrics, Sara Goza, comment.
"While much of COVID-19 cases remains unclear, we know that childhood spread is a reflection of what's going on in larger communities," she added. A disproportionate number of infections have been reported in children of color and in settings where poverty is high. We must work harder to address the inequity in society that has led to this disparity. "
According to the latest data, children now account for nearly 10% of all infections in the US. The figure could be even higher due to the inconsistent data collected from each state.
The largest increase in the period above was recorded in six states including Indiana, Kentucky, Missouri, Montana, North Dakota, and South Dakota. According to the report, 103 children in this country have died from COVID-19 to date.
The increase in childhood infections in the United States is largely occurring in the south, midwest, and west, researchers say.
Dr. Sean O'Leary of the American Academy of Pediatrics said: "This rapid increase in cases happens in the summer, and as the weather cools, we know people will spend a lot. more time indoors. Now we are entering flu season. We must seriously evaluate and implement public health measures, including wearing masks, avoiding crowds, and maintaining social distance. "
According to the page's updates Worldometers On the morning of September 9, the US is still the world leader in the number of COVID-19 cases, with a total of more than 6.5 million cases and more than 194,000 deaths.
The impact of COVID-19 on children has become a major concern in recent months as school districts around the US plan to reopen. In July, the Centers for Disease Control and Prevention (CDC) issued a guideline, saying that schools should reopen if the risk of infection is no longer high.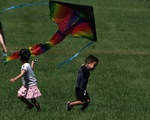 Just two weeks, an additional 70,000 American children get COVID-19