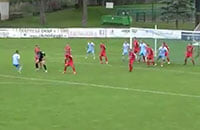 But they didn't miss it!
Football is changing rapidly: teams are looking for new ways to build attacks, score goals and concede less. For example, Jurgen Klopp hires a coach for outs – just to reduce the chance of losing the ball on a throw-in to the side.
But the goalkeeper from the third division of Polish football went even further: Jeronim Zoch from the Vygry Suwalki team jumped into the wall with a free kick, and the defenders stood on the goal line.
Czegoś takiego chyba jeszcze nie widziałem 😯 2. Liga, mecz Błękitnych Stargard z Wigrami Suwałki. Gospodarze mają rzut wolny, aw murze ustawia się … bramkarz 🧐 pic.twitter.com/u9ofWPm9UL

– Adam Delimat (@a_delimat) September 8, 2020
We still do not understand the goalkeeper's plan – but Zoh didn't miss. So the experiment can be considered successful.
Our expert on the actions of goalkeepers Gleb Chernyavsky is still in shock from this moment. Therefore, we turned to Arsenal goalkeeper Artur Nigmatullin for an assessment. Here is his verdict:
"A funny moment, of course. I don't know, maybe fashion will get to that. I just don't see much sense: he would have hit the goalkeeper's outflank a little higher, the defenders would not have gotten. And it would be the same as with a regular wall and with a goalkeeper on the line.
I admit, of course, that I don't understand something, but such a fashion will come soon. After all, they lie under the wall behind, although this was not the case before. Would I risk doing this in the game? I will not renounce. Previously, when cornering two players were put on the barbell, but now they do not put it at all.
Times are changing, football is changing – maybe someday it will also come to this fashion. "