A test to detect COVID-19 in just 90 minutes with a sensitivity greater than 94% and a specificity of 100%. A study, published in "The Lancet Microbe", and led by scientists from Imperial College London (UK), shows that. high-speed testing, which does not require a laboratory and can be performed on cartridges smaller than a mobile phone. The test was tested on 386 UK National Health System employees and patients.
The rapid test, called Lab-in-Cartridge, it can be performed in the same bed as the patient, and thanks to its sensitivity greater than 94% and specificity of 100%, it has a high level of precision and produces very few false negatives and no false positives.
The test is currently being used successfully in eight London hospitals and will be launched nationwide, and data from the test device continues to be collected for ongoing evaluation. The UK government has placed an order for 5.8 million test kits.
To perform the test, a pediatric-sized nasal swab of a patient on the device, which analyzes traces of genetic material belonging to the SARS-CoV-2 virus, which causes COVID-19.
A result is available in as little as 90 minutes, compared to conventional COVID-19 tests that provide the result in 24 hours. The test is now being developed to simultaneously test for influenza A, influenza B, and respiratory syncytial virus, as well as COVID-19.
"These results suggest that the test has comparable precision to standard laboratory tests," said Graham Cooke, lead author of the study.
The device was used in 280 health workers with suspected COVID-19, 15 patients admitted to the emergency room with suspected COVID-19, and 91 hospitalized patients (some of whom did not show symptoms).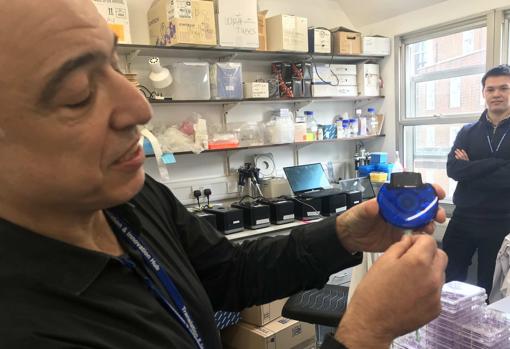 Samples from all people in the study were tested on both the rapid test device and the hospital's standard laboratory equipment, and the results were then compared.
Sensitivity is the ability to identify sick people with a positive result and is an indication of the probability that a test will produce false-negative results. Specificity assesses the ability of a test to give false negatives in people who do not have the disease and is an indication of the probability of false-positive results.
The percentage of positives for COVID-19 was 18%. The results showed that 67 samples were positive in the rapid test, compared to 71 positive results against a series of standard laboratory tests, which represents the value of 94 percent sensitivity.
Regius Chris Toumazou of the Institute of Biomedical Engineering of Imperial College states that the test was developed as a consumer service. "The platform enables testing in community and primary care settings with potential for use in non-healthcare settings such as nursing homes, schools, offices, and also in theaters or concert halls."