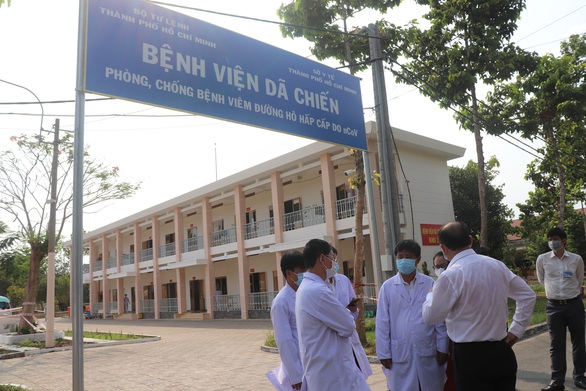 The last two patients with COVID-19 at Cu Chi Field Hospital were cured and qualified for discharge – Photo: XUAN MAI
The National Steering Committee for COVID-19 epidemic control, 18h on September 12, said that there were no new cases, the number of cases recorded in Vietnam stopped at 1,060.
Thus, up to now, it has been 10 days since Vietnam has not recorded new cases of COVID-19 in the community.
In Quang Nam and Da Nang, September 12 8 more patients recovered, including 5 patients at Quang Nam Central General Hospital (BN565, BN592, BN723, BN898, BN836) and 3 patients at Hoa Vang Medical Center (BN608, BN893, BN1027).
Also on September 12, the Center for Disease Control in Ho Chi Minh City (HCDC) said the last two patients with COVID-19 at Cu Chi Field Hospital were cured of their disease, eligible for discharge. Thus, up to the present time, all 77 cases of COVID-19 in Ho Chi Minh City are cured.
In addition, the city has 18 patients after discharge from the hospital during follow-up, 54 cases have expired. 875 people are being quarantined at the central quarantine sites and 246 people are being isolated at home / accommodation.
Regarding testing COVID-19 for people from Da Nang to Ho Chi Minh City from September 5, HCDC said, Ho Chi Minh City has Samples stopped at the airport from September 11. Hence these cases Medical reporting and sampling for surveillance testing must be performed at locations notified by the district health center.
Recently, the city has also increased sampling for employees, waiters at wholesale markets, and businesses. Accordingly, 1,271 samples were collected, no cases of COVID-19 infection were detected.
In the near future, the city will deploy the collection of fees for immigration isolation and entry specialist isolation under 14 days. In addition, continue to isolate case contacts and immigrants according to regulations and supervise people who have performed quarantine in other provinces and cities to reside in the city.