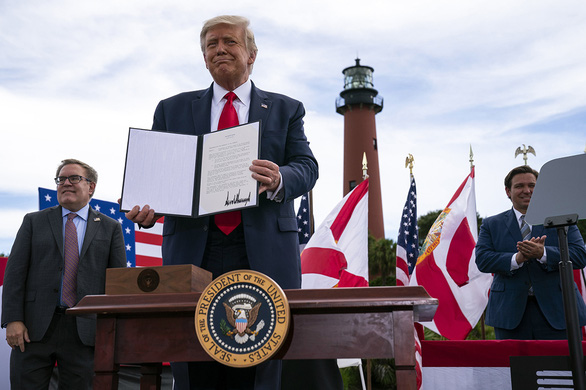 Mr. Trump announced that he would extend the oil drilling ban off Florida, Georgia, and South Carolina during the campaigning in (Florida) on September 8 – Photo: AP
American political observers and public opinion polling companies are sweating cold sweat with the current US presidential campaign according to the evaluation of TV5 (France).
According to TV5, there were two phenomena showing "no known cat biting" between 74-year-old candidate Donald Trump (Republican Party) and 77-year-old candidate Joe Biden (Democratic Party).
Influence voters through Internet platforms
The first is the disastrous experience from the presidential election four years ago when political analysts, polling firms, and the media all misjudged the results of the election.
The situation is not different now. Poll results show that Mr. Biden is in the upper hand because Mr. Trump has lost points in how to manage the COVID-19 pandemic. However, there is no guarantee that Trump will fail.
The main reason for this "year to year loss" phenomenon comes from the second phenomenon. It is the ability to massively influence voters through major Internet platforms.
The COVID-19 pandemic disturbed the candidates' election schedules. If not canceled, the election rallies will minimize the number of attendees.
So the influence of voters through the Internet is very important, although it is not clear how effective it is.
The Internet and social media have become the main source of information and exchange in the US, especially when many countries enter an anti-epidemic blockade in March and April 2020.
Mr. Biden's photo has been edited to age – Photo: FACEBOOK
The year 2020 is different from 2016
Dr. François-Bernard Huygue – research director of Institute of International Relations and Strategy (France) – said that the US presidential election this year is different from 2016.
Four years ago, Hillary Clinton thought she would win easily because of the support of so many major newspapers. She was surprised to see Mr. Trump's campaign develop on social media, he noted.
The elites of the Democratic Party, who have found fake news very slow down, "still have a very naive idea of ​​the Internet" when viewing social media as a tool intended only for dancing children, Huygue said. keyboard.
By 2020, the Internet will become "a space for all manipulation" and digital influencers have changed their methods.
Manipulating images on social networks
Dr. François-Bernard Huygue commented: "To defeat Mr. Biden, people have spread the idea that tomorrow there will be instability everywhere if Biden is elected".
Newspaper Huffington Post reported on September 3, Trump's election team posted on Facebook an image of Mr. Biden's aging clearly visible next to the original photo.
The implicit image implies that Mr. Biden is too old, but old of course, is in poor health, so if Mr. Biden is president, America will not be safe.
In August, a video was posted online with pictures showing a man seen as Mr. Biden slumbering during an interview at the set.
In fact, Mr. Biden's head was inserted into the face of singer Harry Bellafonte in an event that happened several years ago. This video has been removed from Twitter.
The campaign to attack competitors is not only aimed at spreading pure fake news (information completely fabricated) like 2016 but also more sophisticated by repeating certain negative images.
According to Dr. François-Bernard Huygue, Mr. Trump's election team seems to want to focus on the main purpose "Mr. Biden is a slow, weak old man".
In quintessential archeology, Sang Sam's mother ran away when on the third time she heard people say "Sang Sam killed people".
In the US election, too, the game of spreading rumors is a classic trick to create suspicion to encourage a part of voters to stay healthy, from the need to vote, so it is more beneficial for Mr. Trump.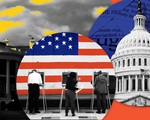 American election ads: Eight-pounder, half-pounder