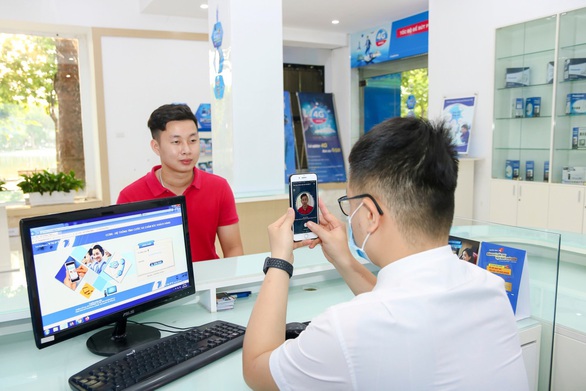 Using biometric AI technology will protect the subscriber's personal information and completely prevent the risk of information tampering – Photo: CAO HUNG
In order to enhance the privacy of customers' personal information – recognized as a valuable asset in the digital technology era, VNPT Group has implemented many measures including the application of AI technology for facial recognition. also known as biometric AI.
Use high technology to protect customers
According to the information security experts, in the 4.0 era, the phone number is not merely a "contact" of each person, but also an intangible "asset" with special value. special. Mobile phone number is often associated with many important applications and services of each individual such as bank accounts, e-wallets … Subscriber information security is also protecting personal information and property. against threats of cybersecurity, phishing, …
In Vietnam, the application of image recognition AI technology was pioneered by the Ministry of Information and Communication VNPT Group pioneered testing from the end of 2018. By February 2019, VNPT started testing internally and in August – 2019 applied on all VinaPhone network.
Facial recognition technology is more known and popular since Apple has integrated the FaceID feature – facial recognition on the iPhone X. Up to now, this technology has become familiar in everyday life. It is applied in many fields such as security, health, education …
This technology is then deployed by other carriers from the end of 2019 to register subscriber information at the request of state management agencies.
However, through the implementation process, it shows that this solution only identifies and compares portrait photos and photos in ID card / citizen's identity card, so it still leaves the case that although no real person comes, still use the leg photo used (scanned version) to register …
Therefore, to thoroughly authenticate subscriber information (standardize subscriber information) to prevent spam SIM, spam messages, spam calls and to identify customers, prepare for the provision. New service, VinaPhone applies AI solution of biometric face recognition.
Accordingly, when customers come to make new registration, change subscriber information … will be taken by the transaction staff to take pictures of many angles and ensure the image has movement. This solution is expected to help improve and further improve the accuracy of subscriber information registration, thereby opening a new space for the development of new services.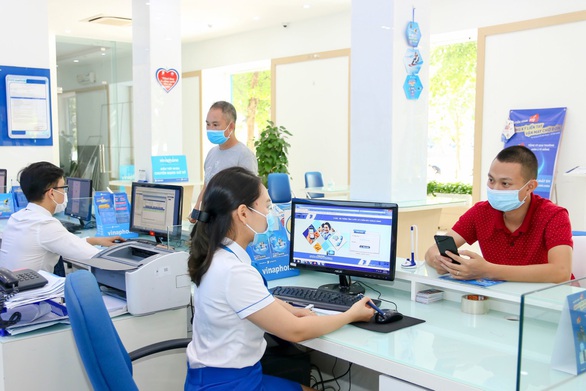 Applying biometric AI technology to register subscriber information is considered as a measure that will contribute to limiting the junk SIM card – Photo: CAO HUNG
Effective measures against SIM junk
With Biometric AI, the time to register new or update subscriber information is fast, to avoid false information and the subscriber is completely authenticated.
Sharing about this technology, the representative of VinaPhone said: "After the subscriber is completely authenticated, customers will not need to worry about the risk of information misrepresentation, even fraudulent fraud and loss of numbers. That is the big advantage that biometric AI technology brings."
However, the actual implementation shows that applying advanced AI technology to customers is not easy. Some customers, when asked to provide personal information to register their subscribers, had a disagreement with this regulation.
"We have actively promoted propaganda and thorough explanation for customers to understand that this regulation is intended to protect personal information and interests of each person" – the representative of VinaPhone said.
Taking advantage of the lunch break, Mr. Cao Van Huy, 45 years old (residing in Phuc Xa, Ba Dinh), went to transaction point 75 Dinh Tien Hoang to register for VinaPhone SIM data: "At first I felt quite bothered. In the past, if I took only one main photo, now I had to take it from many angles, but then I was explained by the staff that this will completely prevent the risk of information tampering so I understand and believe this is a necessary measure to protect his interests ".
Evaluation of biometric AI solutions for subscriber management, the representative of the Telecommunications Department (Ministry of Information and Communications) said that the application of technology by carriers to register subscriber information shows that join hands, unanimity and determination of major telecommunications businesses with management agencies to prevent spam SIM, spam messages, spam calls …
According to experts, the country currently has nearly 130 million mobile subscribers and the mobile telecommunications market is almost saturated. Therefore, this is the time when carriers, instead of focusing on developing subscribers, need to turn to focus on improving service quality and service quality for customers.
Always defining the customer as the center, so with the concern about the customer experience, VinaPhone is the active operator in the implementation of measures to ensure the interests of customers.
In particular, customer identification is also a practical way to protect customers when the network operator launches new services such as Mobile Money …