Japan – South Korea stocks sink when the Fed is known to maintain interest rates close to 0%
Asia's major stock indexes all went down in the morning session of September 17 after the overnight policy meeting of the US Federal Reserve (Fed).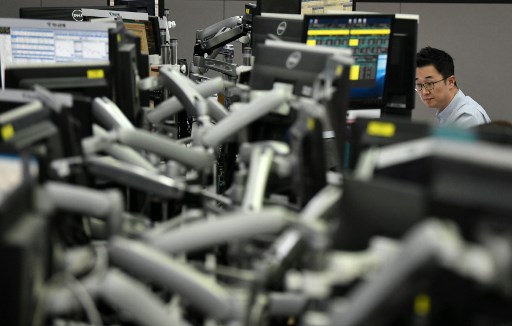 Korean markets were red in the morning session on September 17. Photo: AFP
Japanese stocks "red floor" before the Central Bank of this country announced monetary policy at 12:30 (Hong Kong time). Japan's Nikkei 225 index slipped 0.14% at the beginning of September 17 session while the Topix index was flat.
The Korean market this morning was also in red with the Kospi index down 0.18% to 2,418.92 points. In Australia, the S&P / ASX 200 index slipped slightly before the August job release. Overall, the MSCI Asia-Pacific (excluding Japan) fell 0.13%.
The reaction in Asian stock markets is being watched closely after members of the Federal Open Market Committee of the US Federal Reserve (Fed) said that the overnight rate could be close to 0% for many year to hit the 2% inflation target.
"We expect to maintain the base rate margin between 0 – 0.25% until the labor market conditions match the assessment of the Federal Open Market Commission and when inflation rises to 2%. . Inflation has sometimes exceeded 2%, "Fed Chairman Jerome Powell said.
US stocks last night were mixed. The Dow Jones industrial average closed up 36.78 points, or 0.1%, to 28,032.38, while the S&P 500 slid 0.5% to 3,385.49. The Nasdaq Composite Technology Index lost 1.3% and finished at 11,050.47.
Money market this morning recorded the greenback appreciation. The US dollar index against other major currencies increased from 93.0 to 93,179. Japanese Yen strengthened and traded 104.98 JPY "eating" 1 USD, compared with 105.2 JPY / USD set yesterday, while the Australian dollar slipped from 1 AUD / 0.733 USD in yesterday's session down 1 AUD / 0.7291 USD.
Oil prices on the Asian market this morning went up, with Brent crude oil futures prices rising slightly to $ 42.25 / barrel, while the US crude futures price fluctuated around $ 40.17 / barrel.