Asian stocks were chaotic after a wave of US technology stocks sell-off
Asian stocks fell into chaos in this morning 9/11 session when investors hesitated after the wave of selling US technology stocks.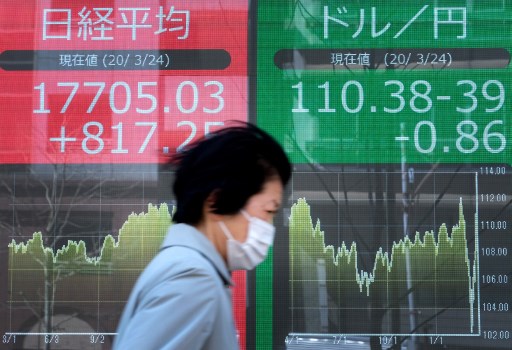 Japan's Nikkei 225 index edged up 0.27% in the morning session of September 11. Documentary photo: AFP
The mainland Chinese stock market this morning received mixed movements, with the Shanghai Composite Index slipping slightly while the Shenzhen Component rose 0.349 percent. On the Hong Kong stock exchange, the Hang Seng index rose 0.33%.
Meanwhile, Australian stocks were tinged with red with the S & P / ASX 200 index losing nearly 1%. Shares of Australian mining group Rio Tinto slipped slightly by 0.2 percent after the conglomerate announced its CEO would resign "under a joint agreement". This agreement came after a Board meeting to consider legal demolition of the typical Aboriginal caves, according to Reuters.
Besides, shares of many major Australian mining companies also slipped. Significantly, shares of Fortescue Metals Iron Ore Mining Group fell 3.4 percent, while BHP shares slipped 1.41 percent.
In another development, Japanese stocks this morning went up with the Nikkei 225 up by 0.27% and the Topix index up 0.48%. In contrast, the South Korean Kospi index fell 0.63%. Overall, the MSCI Asia-Pacific Index (excluding Japan) still fell 0.23%.
Technology stocks on Asian markets this morning were closely watched by investors after stocks of their US counterparts last night continued to suffer from the sell-off. Specifically, the Japanese market this morning recorded that Softbank Technology Group shares fell 0.22%, while Sharp shares slipped 1.87%. In South Korea, shares of Samsung Electronics fell 0.48%, while shares of the world's second-largest chip maker SK Hynix rose 1.31%.
Shares of Tencent listed in Hong Kong still climbed up 0.79% while Xiaomi shares jumped 2%. Contrary to the "giants" technology on the floor of Hong Kong, ZTE shares this morning slipped 0.43%.
US stocks last night "burned" when all 3 major indexes plunged. The Dow Jones industrial average last night "evaporated" to 405.89, equivalent to 1.45%, to 27,534.58 points. The S&P 500 slumped 1.8 percent to 3,339.19 points while the Nasdaq Composite slipped the deepest of the three, with a 2 percent drop to 10,919.59 points.
In the last three trading sessions, shares of the US technology giants, including Apple, Microsoft, Amazon, Alphabet, Tesla and Facebook, have "evaporated" a total of more than $ 1 trillion in market capitalization. Nasdaq Composite cAt that time lost up to 10% in the last 3 sessions.
In addition to worrying about the plunge of US technology stocks, investors also faltered with decisions to cash out when world geopolitical tensions had more negative developments. Analysts said the trade agreement between the UK and the EU will face problems in the coming months amid tensions between the two sides recently heating up.
"It is increasingly likely that British Prime Minister Boris Johnson will push for a hard Brexit (UK leaving EU) deal," said Kathy Lien, director of foreign exchange strategy at BK Asset Management's Asset Management Fund.
Money market today recorded the green dollar depreciated. The US dollar index against other major currencies slipped from 93,352 to 93,269. Japanese Yen weakened and converted 106.16 JPY / USD compared to 105.9 JPY / USD set at the beginning of the week, while the Australian dollar dropped to 1 AUD for 0.727 USD.
Oil prices on the Asian market this morning went down, with Brent crude oil futures down 0.37% to $ 39.91 / barrel, while the US crude futures price slipped 0.24% to 37, 21 USD / barrel.