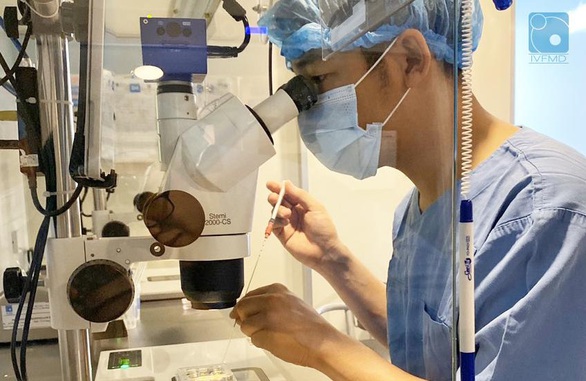 The trend of transferring frozen embryos is replacing fresh embryos in in vitro fertilization – Photo: Hospital provided
This result is done by the team of My Duc Hospital Ho Chi Minh City to monitor the development of nearly 300 babies born from in vitro fertilization over the years. This is considered the first study in the world on this issue.

The research team followed infants born to two groups from fresh embryos and frozen embryos, from birth to about 3 years of age, and use ASQ-3 screening questionnaires to evaluate the physical and mental development of children around the age of about 3 years old.
Results showed that babies born from frozen embryos had a slightly higher growth rate than babies born from fresh embryos.
According to the research team, the technique of freezing human embryos has been successful since 1984. Babies born from the first frozen embryos are now over 35 years old. Recently, the trend of transferring frozen embryos is replacing gradually fresh embryos In Vitro Fertilisation. However, to date very few studies have compared the postnatal development of infants born from frozen and fresh embryos.
"This is the first study in the world with a large follow-up and reliable method. In addition to providing new knowledge about the development of babies born from frozen embryos, this study contributes to the evidence. Demonstration of transfer of frozen embryos after In Vitro Fertilisation is effective and safe for the baby's development after birth.
This result also gives doctors and couples more information to decide on the right treatment regimens to carry out. In Vitro Fertilisation", PSG.TS Vuong Thi Ngoc Lan (Head of Obstetrics and Gynecology, University of Medicine and Pharmacy, Ho Chi Minh City, head of research)," said.
The research was awarded the Ta Quang Buu Prize
This is a follow-up survey by the research group's topic by Associate Professor, Dr. Vuong Thi Ngoc Lan and her colleagues from the Department of Obstetrics and Pediatrics at the University of Medicine and Pharmacy, University of Adelaide, University of Monash (Australia). done previously at My Duc Hospital. The research has been published in the journal NEJM in 2018 and awarded the Ta Quang Buu Prize in 2020.
Recently, the results of this study were published in the journal Fertility and Sterility of the American Society of Reproductive Medicine, the world's leading medical journal specializing in the oldest and most scientifically influential IVF industry today.