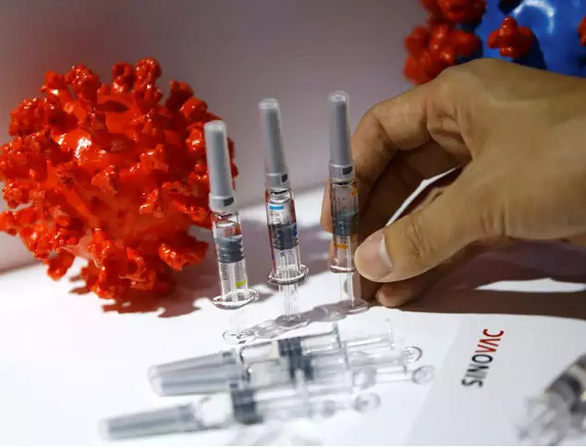 CoronaVac vials of Chinese pharmaceutical company Sinovac – Photo: SINOVAC
CoronaVac's Phase 1 and Phase 2 clinical trial results show that the vaccine is safe for the elderly, although the immune response in this group is slightly weaker, according to Reuters compared to younger user groups.
In general, health officials have always been concerned about whether experimental vaccines are capable of safely protecting the elderly because, in this group of people, the immune system often reacts less positively. with vaccines.
In the results of clinical studies of phase 1 and 2 conducted in May with 421 Chinese (aged at least 60 years) of CoronaVac vaccine published by Sinovac (China) on 7 -9, the vaccine did not cause any serious side effects.
Sinova's representative, Ms. Liu Peicheng, shared the information with Reuters, but the complete results of the clinical study in the two phases have not been released by Sinovac.
Currently out of the eight COVID-19 vaccines that have entered the 3rd stage of clinical trials in the world, four are developed by China.
According to Sinovac, in the three groups of participants with low, medium, and high doses of the CoronaVac vaccine, more than 90% of them had a significant increase in antibody levels to the coronavirus.
CoronaVac vaccine is undergoing final stage human clinical trials in Brazil and Indonesia to check whether it is safe and effective enough to be licensed for mass use.
Although it is in a terminal phase, the vaccine has also been injected to tens of thousands of people, about 90% of whom are employees of the pharmaceutical company Sinovac and their family members. This is part of China's emergency vaccination program to protect people at high risk of infection.
According to Ms. Liu, the Sinovac vaccine can maintain stable quality for up to three years in storage. This will give Sinovac the advantage of distributing its products to areas where cold chain systems are not in place, i.e. supply chains capable of controlling and maintaining the appropriate temperatures for the goods. Different refrigeration requirements.