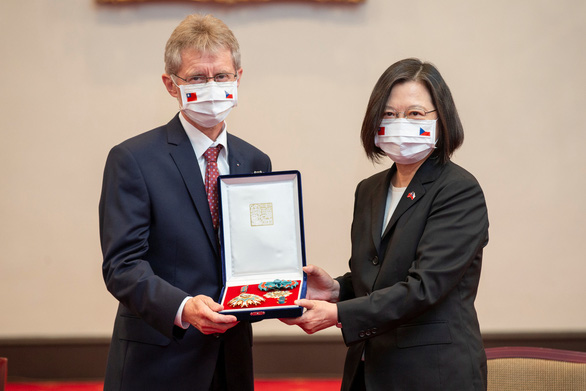 President of the Czech Republic Senate, Mr. Milos Vystrcil (left) and Taiwanese leader Thai Anh Van – Photo: REUTERS
On a September 8 Twitter account, the editor-in-chief of the Chinese newspaper Hu Xijin said that those who were punished would not be allowed to enter the mainland while American companies with which they had a relationship were also banned.
"As far as I know, China will punish senior US officials visiting Taiwan, and the US companies with which they have a relationship. They will never be allowed to enter mainland China and the public. US companies related to them will lose the mainland market, "Hu wrote.
Last week, the US Secretary of State reacted to China's opposition to Health Secretary Alex Azar's plans to visit Taiwan. According to Pompeo, China's opposition is inconsistent with the previous policy.
Recently, China also criticized the Czech delegation's visit to Taiwan as "a serious violation of China's sovereignty".
The President of the Senate of the Czech Republic, Mr. Milos Vystrcil, led a delegation of 90 Czech politicians, businessmen, scientists and journalists to Taiwan from August 30 to September 4.
"There is only one China in the world and Taiwan is an inseparable part of our territory. Whatever the Taiwan government and anti-China forces make any attempt to manipulate, they still cannot change that, "the Chinese Embassy in Prague said on September 5.
To appease China, Czech President Milos Zeman has announced that he will not invite Vystrcil to the meeting of high-ranking foreign policy officials. However, Mr. Zeman also said that Beijing has "exaggerated" the statements.