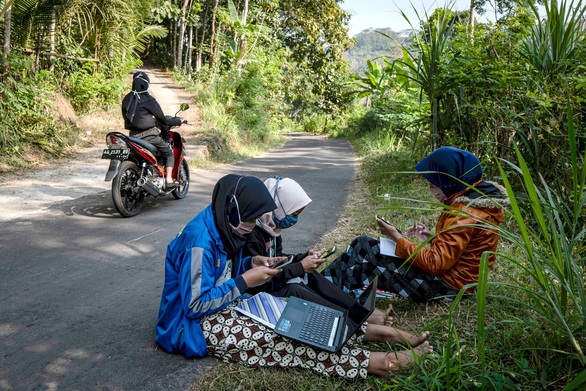 Three 19-year-old Teara Noviyani, 13-year-old Siti Salma and 15-year-old Fitri Zahrotul are studying on the side of the road in Kenalan, Indonesia because there is a strong enough wifi to download homework. – Photo: NYT
According to the newspaper New York Times (NYT), in a village in Kenalan, during school days, three 19-year-old girls Teara Noviyani, 13-year-old Siti Salma and 15-year-old Fitri Zahrotul, will have to pass each other by motorbike to their own "study point": one Flat seat right on the roadside outside the village, where wifi is more stable.
There, the children do their homework on smartphones and laptops, ignoring traffic right next to them.
Three girls on Java Island have been learning this way since March of this year, when Indonesia started to close schools at all levels to prevent the COVID-19 pandemic.
"When the school asked for distance learning, I was worried because we did not have the Internet at home," said female student Siti Salma Putri Salsabila.
Literally hard learning in the context of an epidemic didn't just happen to the three girls. Millions of other students in Indonesia are also facing similar difficulties.
The government has closed schools and implemented distance learning, but the Internet infrastructure as well as the conditions for using electronic devices to help do this (smartphones, computers) are still limited.
In Indonesia's North Sumatra province, students have to climb across trees in a mountain village hoping for stronger wifi waves to do their assigned homework. While in Central Java province, students also had to go to the village temple to get free wifi to do homework.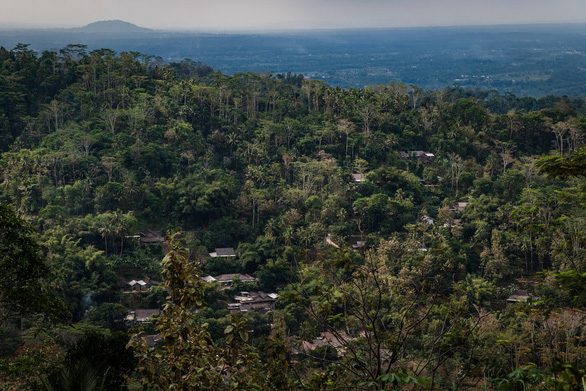 The government has provided more telecommunications infrastructure in Kenalan, Indonesia to help students learn from a distance, but in reality, there are still many challenges in accessing telecommunications network services – Photo: NYT
Around the world, even in the richest countries, educators are struggling with how long distance learning can be effectively deployed during a pandemic. However, for poor countries like Indonesia, this is a really difficult challenge.
According to the Indonesian Ministry of Education, more than a third of students in Indonesia do not have or have very limited conditions to study remotely.
Education experts fear that this situation will make many children lag behind, especially those in remote areas where online learning is still a very new story.
To date, Indonesia has recorded a total of more than 190,665 cases of COVID-19, of which nearly 8,000 people died. However, due to limited testing conditions, independent medical experts believe that the actual data is much higher than the official statistics.