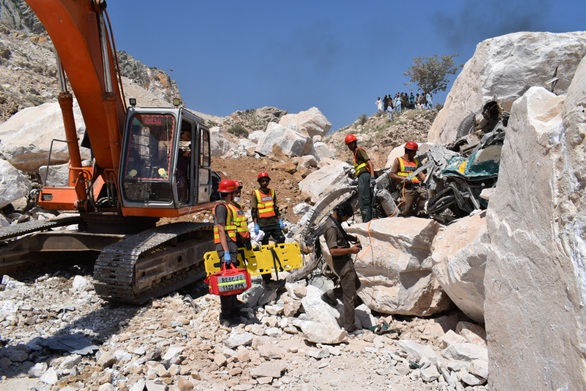 Rescuers are still trying to find survivors of the collapse of the marble quarry in Mohmand, Pakistan September 8 – Photo: Reuters
On September 8, Pakistani rescuers and soldiers were still digging to find survivors of the crash that took place the day before. The collapsed marble quarry is located in the Mohmand region of Pakistan bordering Afghanistan. This is the place where high-quality white marble is exported to many other countries.
According to Mr. Tariq Habib – local police chief, about 40-50 people were working at the mine when the incident happened.
"Normally a large number of people work in marble quarries like this, but luckily most have finished their jobs at that time," Habib said.
According to local media, large granite stones have collapsed on the ill-fated workers. Many vehicles nearby were also destroyed. The original reason is believed to be the use of heavy explosives to break rocks, making the terrain at the quarry unstable.
At least 19 people were killed and 9 injured. Determining the death toll is difficult because many families have brought the bodies of loved ones home. About 20 people remain trapped in the mines, local leaders said.
Deadly mining accidents are not uncommon in Pakistan. In February 2020, at least 10 people died from a rock slide at a marble quarry in the Buner district of northwest Pakistan. Two coal mine explosions in Quetta City in 2018 also claimed the lives of 30 miners.