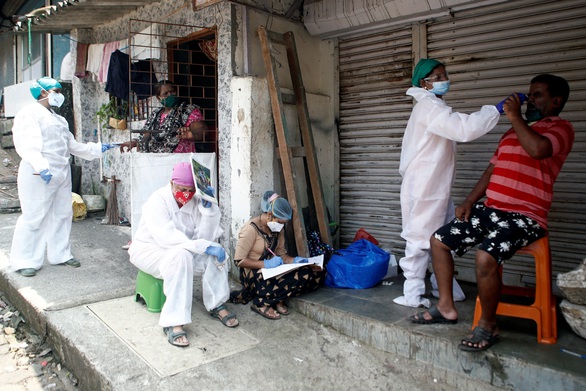 Health workers tests people in a slum in Mumbai, India on September 5 – Photo: REUTERS
Although the US is the world leader in both cases and deaths, the number of new American infections has decreased significantly. According to Reuters, the number of cases increased again in 22/50 states, most of them in the Midwest, but this increase was not noticed as much as the number of cases across the country generally decreased, especially in states that used to be hotspots like California, Florida, and Texas.
Meanwhile, the epidemic is becoming uncontrollable in India as the country set a new record with 94,000 new infections as of September 6. During the past week, India had an average of over 1,000 deaths a day, according to the report Times of India.
India has now overtaken Brazil as the world's second most damaged country by COVID-19.
Meanwhile, in Europe, the number of COVID-19 infections is increasing at a worrying level, though not as high as the previous epidemic peak.
On September 6, England had nearly 3,000 new positive cases. According to Health Minister Matt Hancock, "The number of cases increasing this day is worrying", especially the majority of patients are quite young people.
Mr. Hancock emphasized that people need to keep a safe distance as the first line of defense to prevent the spread of disease.
According to the Euronews, the trend of epidemics is increasing, and focusing on those under 40 years of age is also evident in Europe. Southern and eastern European countries such as Albania, Bulgaria, Montenegro, North Macedonia, and Romania had a higher number of cases in August than at the beginning of the year. The number of infections in Croatia, Greece, and Malta in the past week was higher than the previous outbreak. Belgium and Italy also experienced a rapid increase in the number of shifts, though not as much as the previous March and April period.
France, Poland, the Netherlands, and Spain are likely to face a second wave of epidemics and are working to curb the disease's rise.