The Finnish monster is fine too.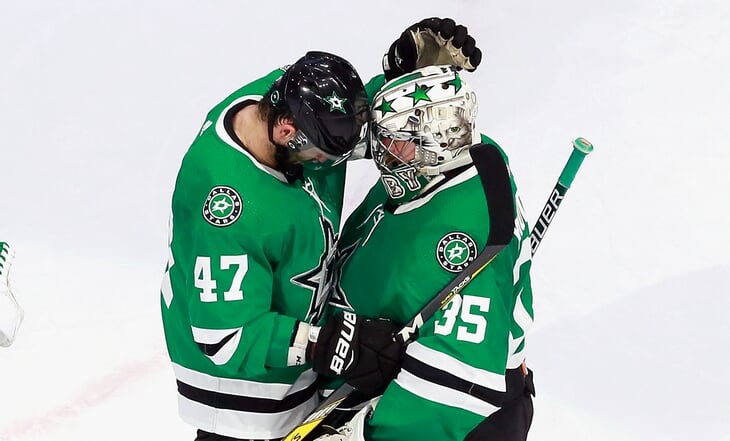 How many shots do you need in overtime to win? Only one.
This is exactly what Alexander Radulov decided when he rolled into the Vegas zone in the first minute of extra time and decided to quit. It turned out great, what is already there.
Radulov came to this puck after a ton of work in the third match – he drove all over the court, scattered three hits and added two blocks. Bowness reshuffled the links again and released Radulov with Benn and Seguin – in the course of past matches, these three did not look very good, but this time it worked. The first link of "Stars" made two goals, Lehner pulled another killer moment of Seguin – this was enough to lead the series.
True, these two pucks come with 38 saves by Anton Khudobin – today he forgot about a local failure in the second game and three missed in 10 minutes. Anton worked super reliably, and a couple of times he dragged up his defense, which played a generally good match, but not without mistakes.
Dobby stop on Karlsson in alone #GoStars pic.twitter.com/AdYEjBdBSm

– Here's Your Replay ⬇️ (@TheReplayGuy) 11 September 2020
And if we talk about defense, then we will have to remember again about Miro Heiskanen – this Finnish Terminator again made an assist and worked well in defense. Lovers of statistics will say that he has a very lousy Corsi, but the point is that Vegas again decided to shoot from any position, and about the same number of shots came from the blue line as from the slot. Of course, in such conditions the metric sags, which depends only on the number of throws.
On closer inspection, Heiskanen has an assist for some completely unrealistic goal – the Stars defended themselves, intercepted the puck, and Miro threw the healthiest defender of Stars Oleksyak into the gap, who, first of all, fled into this very gap, and, secondly, he outplayed Lehner quite elegantly.
Miro did not remain without a cool selection either – he got stuck in a foreign zone, yawned a Vegas counterattack, but flew over the entire area and left his opponent without a puck with one movement of his stick.
Look at the back-check here by Miro Heiskanen! #GoStars pic.twitter.com/45d8jeyZ6y

– Here's Your Replay ⬇️ (@TheReplayGuy) 11 September 2020
"Dallas" did not break down due to defeat in the second match, withstood another shelling of "Vegas" and avoided a long overtime – the intrigue in this series is now spinning much stronger than in the East final.
Stanley Cup
3rd round
Series score: 2-1