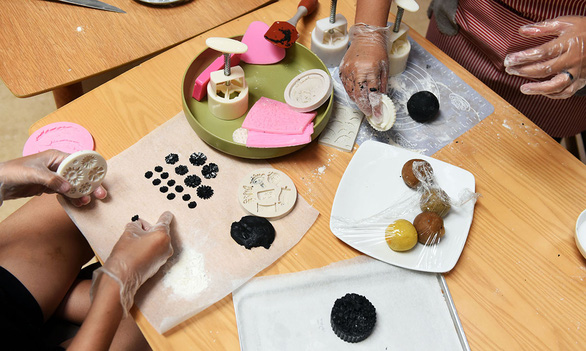 "Homemade" moon cakes are easy to find on online stores, social networks – Photo: DUYEN PHAN
Although the national standard (TCVN) for moon cakes (baked goods) and cakes have just been issued by the Ministry of Science and Technology, which strictly regulates the quality standards of these items, many experts believe that it is very difficult to control the quality of the cakes, especially "homemade" cakes announced and responsible by the establishments.
"Homemade" cake cheap as … duck
The moon cake market this year has passed halfway with conservative purchasing power due to the influence of the COVID-19 epidemic. However, in addition to familiar bakery brands, the "home-made" moon cakes, advertised as handmade, preservative-free, and food safety and hygiene (food safety and hygiene), are also available. many interested consumers.
At a "home-made" moon cake advertising address in Ho Chi Minh City, we were introduced by sales staff as fresh cakes, with a short shelf life, only made (by hand) when someone ordered. …
However, when we asked for about 300 pies urgently, the employee said he could deliver within the same day, but refused to write the basic information on the cake box.
A website called "homemade moon cake …" has attracted thousands of people interested in the advertisement "cakes with natural ingredients without chemicals", but the price is only from 10,000 to 30,000 VND / item depending types, and even discount 20-30% if purchased in bulk.
However, the seller said he only made it during the moon cake season, so he did not have a food safety certificate, and refused to provide information about the baker.
Ms. Quyen, the owner of a small handmade cake stall on social networks, said that "home-made" moon cakes have the advantage of meeting the requirements of each customer such as adjusting the sweet taste or more, the cake can be added or less. interests…
However, the purchasing power this year is only 1/3 compared to every year. "In the Mid-Autumn season this year, there are no big orders. Besides the epidemic, many users are also skeptical about the quality of homemade cakes", Ms. Quyen admitted.
According to Ms. Phuong (the seller of "home-made" moon cakes), although there is a regulation that the establishment or individual making moon cakes for business must have a food safety license and must publish quality standards, but the "Home-made" bakeries cannot meet these requirements, but only convince customers to buy with a commitment by … prestige.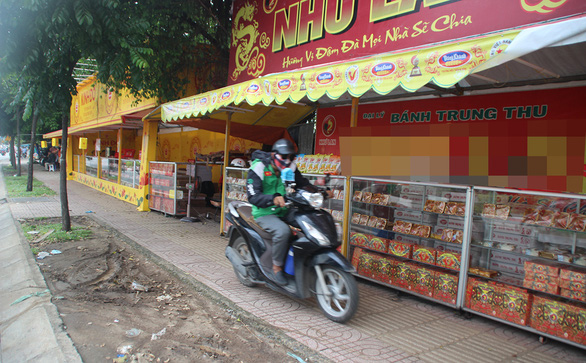 Many shops selling moon cakes have no customers, and trade is sluggish due to the influence of COVID-19 epidemic – Photo: NG.TRÍ
Still difficult to manage "Homemade" cake
Many businesses admit that moon cake business has a huge profit margin, possibly up to 35-40%, so this market is a piece of cake that everyone wants to jump into, from bakeries, coffee shops to Restaurants, eateries …
In particular, with the "homemade" moon cakes with cheap prices, not many customers care about good quality standards. food safety issue.
The director of a large-scale moon cake manufacturing enterprise in Ho Chi Minh City said that moon cakes are typically fresh, there are stages that must be used by hand, so the production process must be strictly followed by food safety and hygiene conditions from factories.
For example, the raw materials for production are strictly regulated by the hour, after this time must be discarded, not used. "With such high requirements, home-made moon cakes or small-scale seasonal production are difficult to meet," he said.
According to Ms. Tran Thi Minh Hanh – Head of Nutrition and Regulatory Department at Hoan My Saigon Hospital, the main ingredients for moon cake production such as nuts, eggs, milk, and cereals are susceptible to infections and mold. . As a result, the quality of moon cakes is easily affected if they are not well produced and preserved.
In fact, according to a representative of the Ho Chi Minh City Market Administration, the most common violation with "home made" moon cakes is the product of unknown origin, without the food safety and food safety certificate, although there are regulations. Want to wholesale the "home made" moon cakes must register for food safety and food safety and have a business registration license.
Also according to this position, the authorities are checking the origin, certifying food safety for the moon cake selling points, in which focusing on checking the stalls of trading, imported moon cakes. Original from China. Accordingly, the moon cakes that have no origin will be confiscated, destroyed and sanctioned.
"But with home-made moon cakes, the inspection is difficult because in order to check where the residence is also the place of production, there must be a decision of the District People's Committee, accompanied by the signature of the district president. coordination between many new authorities can monitor the quality of these cakes ", he said.
Purchasing power plummeted
Due to the influence of the Covid-19 translation, the number of moon cake shops in Ho Chi Minh City has decreased sharply, less than 50% compared to last year. purchasing power is also very low.
Along the roads such as Pham Van Dong (Thu Duc) or Phan Dang Luu (Phu Nhuan) … it is not difficult to realize that the atmosphere of buying and selling moon cakes this year is quite bleak.
Anh Hung, owner of 4 moon cake shops in the Pham Van Dong (Thu Duc) area, said that the purchasing power of moon cakes this year was only 30-40% compared to the same period last year, some types of cakes. not even sold due to the high price.
"It's almost the Mid-Autumn Festival, but the purchasing power is too weak, so I don't dare to import more cakes like every year, I must reduce prices early to push the cake away somewhat or that part" – Hung said.
According to Ms. Nga – the owner of two moon cake shops on Hoang Van Thu street (Phu Nhuan), only about 25 customers buy each day, only 30% compared to last year. But because she was allowed to return the remaining cakes to the company as committed in the contract, she still tried to "hold out".
Business establishments self-declaration and take self-responsibility
The national standards (TCVN) for moon cakes (baked goods, cakes) have just been announced by the Ministry of Science and Technology, and are expected to help manufacturing businesses have a reference channel for product quality.
For example, for baked goods and cakes, the sugar material must meet the requirements in TCVN
6958 or TCVN 7968, wheat flour meets the provisions of TCVN 4359, cooking oil meets the provisions of TCVN 7597: 2018. The ingredients of animal and plant origin used for baking (beans, lotus seeds, mushrooms, lard, meat products …) must meet the requirements for quality and safety. for use as food.
Mr. Nguyen Huy, the standard expert of the project of high quality Vietnamese goods – integration standards, said that the new TCVN will become a reference channel for moon cake manufacturers of his unit to meet or match. whether or not to adjust and declare compliance.
"Compliance with the TCVN is voluntary, has a leading role in terms of product quality as well as safety for users. Enterprises self-declare and take responsibility for their own claims" – Mr. Huy said.
According to Mr. Huy, in addition to the Vietnamese Standards, the production of moon cakes is also governed by many other regulations such as regulations on contamination, microbiology in food or residues of plant protection drugs if the cake is filled with Use vegetables and fruits …
With "home-made" moon cakes, if businesses or private businesses want to do business, they must also meet certain requirements, including food safety and food safety certificate and business registration.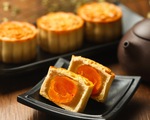 National Standards for moon cakes announced