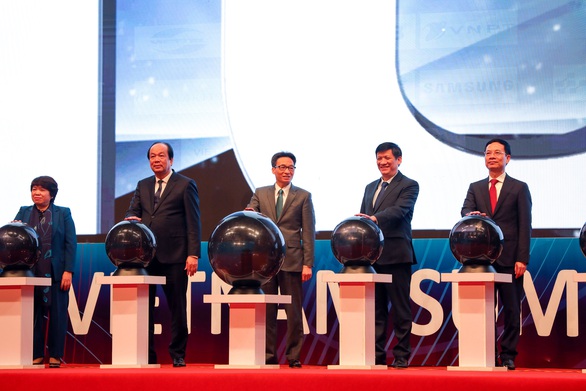 Deputy Prime Minister Vu Duc Dam (in the middle of the photo) with 4 ministers / chairmen of the Committee press the button to launch 3 digital transformation applications in health this morning 30-12 – Photo: VIET DNG
This morning, December 30, the second working day of the National Health Digital Transformation Conference, the Ministry of Health announced the launch of 3 important digital transformation application platforms: Vietnam Social Network, the section V20 grassroots medical management software and Vietnam Health record management software. These are the three important foundations for curative and preventive care at health facilities at all levels.
Deputy Prime Minister Vu Duc Dam and 4 ministers attended. According to Mr. Nguyen Thanh Long, Minister of Health, there are many important lessons that lead to success in COVID-19 prevention in Vietnam, but one of the important lessons is the application of information technology.
"Vietnam is one of the first countries in the world to apply electronic medical declarations. We also apply Bluezone tracing software, from which to quickly identify cases involving infected people and fast zoning. The health sector is also speeding up the completion of the COVID-19 safety map at medical facilities, including in private facilities, "said Mr. Long.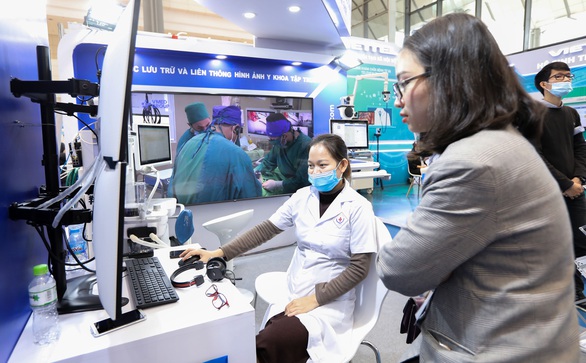 Attendees at the national medical number conversion conference to track information technology applications that have been and are about to be used in health – Photo: VIET DUNG
Mr. Long also said that thanks to the application of information technology, up to now, there have been 1,500 connected remote examination and treatment points, from where there are grassroots facilities that can perform cranial emergency surgery, while if referred. It takes 6 hours and the patient can die.
"There are medical stations that have to record 78 professional books, at least 35 ones, sometimes 50-70% of the time is for recording. V20 software with the companionship of Viettel and VNPT ensures connection. 12,000 medical stations will be officially applied from January 1 to 2020 onwards, the Department of Health can monitor the health situation of people of each station, from nutrition, vaccination, and management of non-communicable diseases " , Mr. Long said.
With Vietnam Medical Social Network, each doctor can have 1 account, integrating health-related functions (prescriptions, medical records …), doctors can comment and support. expertise through this network.
"Patients who come to the lower level, but with the professional support of the senior specialist, the lower level doctors will be more confident in the examination and the professional quality will increase", Mr. Long predicted.
With the simultaneous launch of three important applications, along with the legal corridor issued by the Government, digital transformation in health has never been as strong as today. According to Deputy Prime Minister Vu Duc Dam, digital transformation is also to change habits, ways of thinking, ways of doing in health, and the aim is towards quality of medical examination and treatment.
Up to now, 10 hospitals have used electronic medical records, 23 hospitals have used PACT software without film printing, many diagnostic and treatment devices have been put into use through digital transformation in healthcare.
"Revolution 4.0 is no longer a strange, distant thing that exists. In the near future, a chip mounted on the skin will synchronize with each individual's health record, the doctor knows the patient's condition, "Each citizen has 1 doctor", this is a goal that only artificial intelligence can do, "said Minister Long.