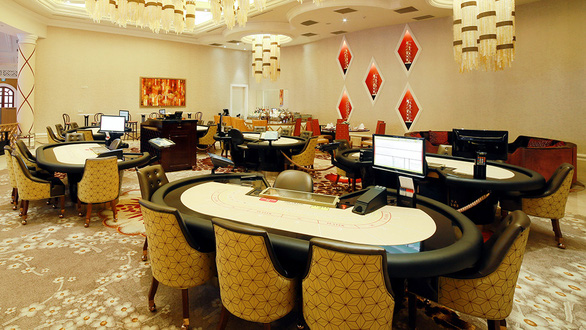 At Ho Tram casino (Ba Ria – Vung Tau) recently, many times have been absent – Photo: DONG HA
$ 14 billion was poured into 5 resort complexes with casino: Van Don (Quang Ninh), Laguna Lang Co (Thua Thien Hue), South Hoi An (Quang Nam), Ho Tram (Ba Ria – Vung Tau). ), Phu Quoc (Kien Giang), of which 2 projects Phu Quoc and Ho Tram have been put into operation. But both of these two billion dollar casinos are doing business in moderation or at a loss.
Experience shows that the Philippines has been very successful when planning the entire Manila Bay landfill into a complex, a resort city invested by many famous casino groups in the world, players have many options. and creating a vibrant, sleepless city. Total investment in casino business on Manila Bay is estimated at 15 billion USD so far.
It can be said that up to now, Vietnam does not have an appropriate investment strategy for the development of the casino business. Previously, we only licensed casino with capital size of 4 billion USD or more, after many years of waiting, no international investors came to invest. The government has brought the investment to license the casino business project down to 2 billion USD, and no international investors have stepped in.
In addition, with a small market with many barriers, the casino tax (excise tax) at 35% is too high compared to the casino business countries such as Singapore, Philippines, Malaysia … Legal framework In terms of casino business, there are many unreasonable points, inconsistent with international practice, and discouraging people wishing to play casino is also making it difficult for resort complexes with casino business. financial constraints.
Do not think casino business is super profitable and only consider taking foreign money when licensing casino investment, then creating a series of barriers for Vietnamese. Vietnamese people who are not allowed to enter the casino also make foreigners lose motivation casino play.
If someone visits the casinos in Singapore, Malaysia, Philippines, Phnom Penh and Macau, they will often meet Vietnamese players and giants everywhere. The casinos also hire many Vietnamese for convenience.
The spirit of existing casino decrees, circulars or documents is to limit, control, not oversee or govern. As a rule, casinos in Vietnam are allowed to operate 24 hours a day, but Vietnam's casino business still lacks many services. We need to revise the rules on casino business investment accordingly.
The casino business has too many barriers that need to be removed in time to attract domestic and foreign tourists. Thereby promoting the economic efficiency of the resort complexes of billions of USD that have been invested in many parts of the country.
Mr. Phan Xuan Anh (President of Saigon Boat Company):
Nightlife area by Nhieu Loc canal?
Currently, the nightlife of Ho Chi Minh City are almost overloaded with familiar concentrated addresses such as Nguyen Hue Walking Street, Tay Bui Vien Street. There is a need for new space to stretch these points.
We are thinking of the area on the banks of the Nhieu Loc canal, with two routes Truong Sa and Hoang Sa. Singapore has successfully built a nightlife area with a landscape similar to a river cruise. The cruise products on the boat's berth, along with the entertainment services along the river banks, bring a new space for tourism at night.
Professor Ha Ton Vinh has lived and worked for more than 50 years in the US and many Asian countries, teaching business administration at the University of Hawaii, University of California Miramar, visiting professor of Macau Polytechnic Institute. .