Facing the trend of shifting strongly to electric cars in the period 2025-2030, shares of enterprises operating in the electric vehicle production chain are also paid more attention.
The trend of strongly shifting to electric car (EV) production recently is being paid special attention by the world stock market.
Observers have found that shares of the best companies in the auto industry of 2020 tend to come from companies that have produced electric cars for sale, as opposed to companies that simply plan to do so. electric vehicle production in the future.
However, not only EV manufacturing enterprises can attract the attention of investors, many companies manufacturing parts and components used in EVs such as batteries or autonomous systems also attract the attention of investors. top attracts the attention of investors.
This becomes even more practical when the President of the United States, Joe Biden, revealed a trillions of dollars worth of infrastructure investments in which EVs will significantly benefit from this program.
The White House has also proposed a huge investment of up to $ 174 billion for the EV market. That includes $ 100 billion in grants to lower car prices for new consumers and $ 15 billion to build new electric vehicle charging stations.
This accelerated transition to EV also helps companies focus on developing and manufacturing better positioned electric vehicles. Opportunities are being opened so that investors can consider and invest in some stocks of this industry.
Here are a few names for investors to consider.
1. Tesla Inc (NASDAQ: TSLA)
Talking about electric cars is indispensable for the industry leader, Tesla.
The EV giant recently released a staggering quarterly report, signaling investors that EV adoption is indeed afoot. As EV adoption is on the rise, it's good to know how Tesla is being sold in international markets.
Tesla sales in Japan were up 1,300% in March 2021 compared with the same period last year. Photo: internet
In Japan, for example, Tesla had trouble selling cars in the world's fourth-largest auto market. That is partly due to the incompatibility with the structure of parking lots in Japan. Specifically, the Model S and Model X seem too large to fit in movable parking spaces. But things could be changing.
In fact, Tesla surprised the market by seeing its March 2021 sales increase 1,300% in Japan over the same period last year thanks to Model 3 orders. sold 44 cars in March 2020.
This is mainly due to the reduction in the vehicle's production and shipping costs thanks to its import from Shanghai Gigafactory.
With deliveries rising globally, TSLA's rally is not without its basis.
2. Blink Charging Co (NASDAQ: BLINK)
When car companies entered the EV field, charging stations became essential and EV Blink Charging stations appeared.
Blink is an owner, operator, and supplier of EV charging equipment based in Florida. The company's main line of products and services is a premium network called "Blink Affiliate Network".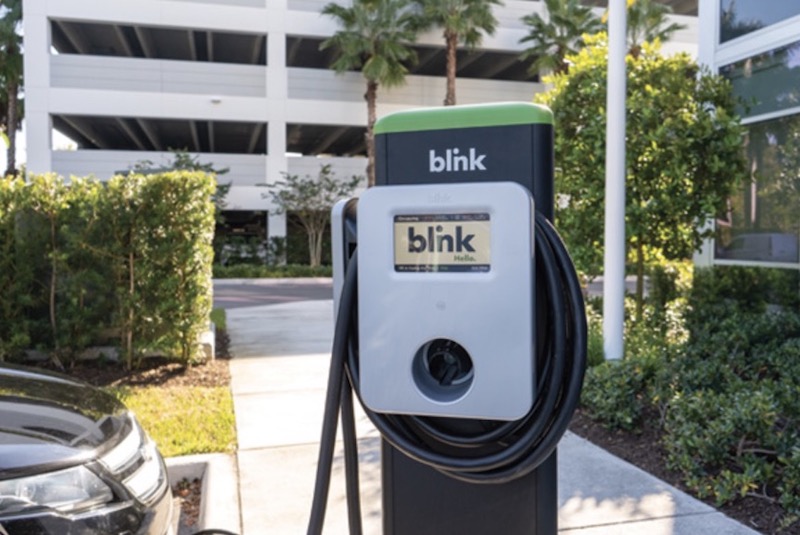 Blink's charging station. Photo: internet
On Forbes' list of America's Best Small Companies, the company is living slowly but surely as expected.
The company's shares charged 13% higher in trading Thursday. This is thanks to the announcement that New York-based Four Brother Pizza Inn has awarded Blink a contract to install 42 charging ports at 10 Four Brothers restaurants in the state. This is good news for Blink as they have very little or no upfront costs to set up this infrastructure and can almost begin to profit immediately from selling electricity to owners. Organic electric car.
3. ChargePoint Holdings Inc (NYSE: CHPT)
ChargePoint Holdings is the largest EV charging station company in the US with more than 135,000 charging ports. The company is the first EV rechargeable stock to be listed on the market through the SPAC roadmap, after completing the merger with Switchback Energy Acquisition.
Investors are bullish on CHPT as it could be one of the best pure stocks for the electric vehicle boom.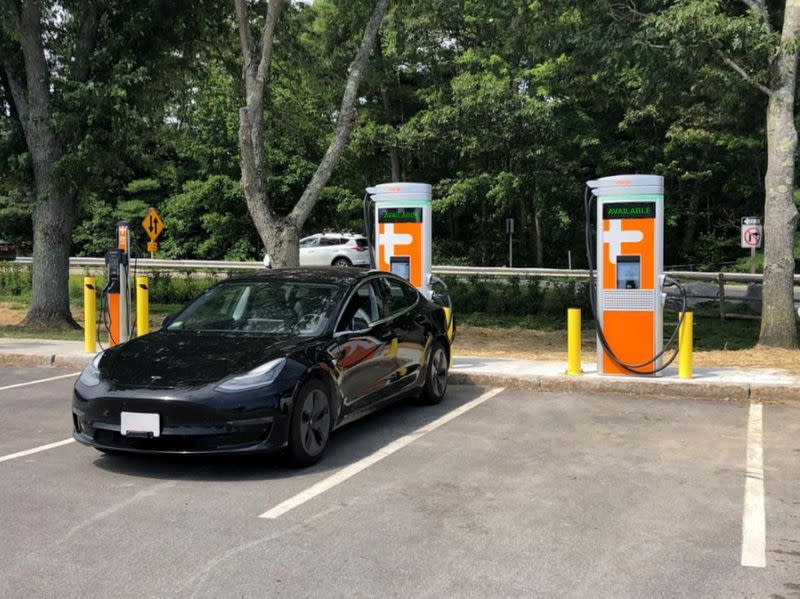 ChargePoint's charging station Photo: internet
With more than 90 million fees assigned, the company continues to expand its vertical industry by offering its solutions to fleets and large enterprises. Along with the many clean energy stocks that benefit from Biden's infrastructure plan, is it safe to say that there are more possibilities to buy CHPT stock?
With over 90 million fees sold, the company continues to expand its vertical industry by offering its solutions to fleets and large enterprises.
Along with the many electric car stocks benefiting from President Biden's plan to deploy 500,000 new public toll booths by 2030, CHPT stock is likely to have more room to run.
The company expects revenue of nearly $ 200 million for fiscal year 2022 (1/2 / 2021-31 / 1/2022).
4. Allison Transmission Holdings Inc (NYSE: ALSN)
Allison Transmission is the world's largest manufacturer of fully automatic transmissions for midsize and heavy duty commercial vehicles. It is also the leader in the electric hybrid engine system for city buses.
In the past 6 months, ALSN shares have been relatively flat. However, the move towards EV makes opportunities also open. Goldman Sachs recently assessed ALSN as one of the leading EV stocks that will benefit from the electric vehicle boom.
Allison is committed to using zero-emission technologies. Its electric hybrid motor solution, for example, uses a geolocation system that automatically switches to fully electric drive systems in designated areas.
Bus manufacturer GILLIG announced in February that it will be using an electric hybrid propulsion system powered by Allison's eGen Flex ™. This system allows the bus to run completely electrically for a distance of 10 miles without releasing any harmful fumes into the environment.
Furthermore, the system can improve fuel economy by up to 25% compared with buses powered by conventional clean diesel engines.
5. NIO Automobile Manufacturer (NYSE: NIO)
China's electric car IPOs, including Li Automotive (NASDAQ: LI) and Xpeng (NYSE: XPEV), have attracted a lot of attention from investors in 2020. That motivates interest in Chinese electric car maker NIO (NYSE: NIO) even though NIO has been publicly traded since September 2018.
Since its launch on the stock market, NIO has increased production of vehicles. In November 2020, the company produced more than 5,000 vehicles for the first time in a month, more than 2 times higher than the previous year.
All three of these Chinese EV companies have chosen to focus on the electric SUV market at home, trying to compete with Tesla's crossover SUV.
While Tesla makes a Chinese version of the Model Y at its Gigafactory in Shanghai, its Chinese rivals have found other advantages to compete. NIO's EC6 form example qualifies for Chinese government subsidies for which Model Y does not.
Of course, as NIO continues to grow, NIO will face stiff competition in the hot EV market in China, with not only EV manufacturers in China or Tesla, but also from manufacturers. Traditional auto manufacturers are daring plans to capture a good share of the world's largest auto market.
Research firm Canalys said a few days ago that electric vehicle sales in China could grow by more than 50% by 2021.
6. NIKOLA Motor Company (NASDAQ: NKLA)
The new focus on electric car stocks in 2020 comes from Nikola (NASDAQ: NKLA) and its founder, Trevor Milton.
By talking "frankly" with Tesla CEO, Elon Musk – on Twitter or naming the company Nikola – a sound like Tesla – Milton has sparked expectations for his dream of making a pickup. powered by hydrogen fuel cells.
Nikola mentioned going public through a reverse merger with a special purpose acquisition (SPAC) company instead of a traditional IPO. They have also begun taking pre-orders for their Badger hydrogen fuel cell pickup truck, though there is no production plan until the end of 2022.
However, in September 2020, there were allegations of fraud by the company and its founder, prompting Milton's resignation.
After the accusations (many of which were denied by Nikola), the much-anticipated partnership with General Motors was suspended. Finally, Nikola also announced it will cancel the receipt of the Badger and return all deposits. A partnership with Republic Services (NYSE: RGS) to develop fuel-cell garbage trucks was also scrapped.
Shares used to be traded at over 80 USD / share fell below 20 USD / share.
Nikola is clearly not a good company to invest in, but it's also a good example of the risks that can be encountered when investing in an electric-vehicle startup with no production history and no history. Limited technical and financial data available.
7. ETF Fund
For investors interested in exposure to the electric car market but worried about the risky nature of many of the companies involved, an exchange-traded fund (ETF) includes electric car stocks. Like Invesco PowerShares WilderHill Clean Energy ETF (NYSEMKT: PBW) might be a good choice.
ETF tracks the WilderHill Clean Energy Index, which focuses on clean energy in general instead of electric cars in particular. While no company holds more than 10% of the fund's shares, its portfolio features many electric car makers, including NIO, Tesla, Workhorse Group, Kandi Technologies, and ElectraMeccanica Vehicle.
In addition, they also invest in stocks related to electric cars such as infrastructure specialist Blink Charging, lithium-ion battery maker Livent and some hydrogen fuel cell companies such as Plug Power.
Another electric-car-focused ETF is the Global X Autonomous & Electric Vehicle ETF (NYSEMKT: DRIV), but has less electric car manufacturer portfolios and more focus on major tech companies and homes. Traditional car manufacturers have invested in this sector, including Apple (NASDAQ: AAPL), Alphabet (NASDAQ: GOOG) and Toyota.