As of the morning of September 11, the world had more than 28.3 million cases of COVID-19 with more than 912,000 deaths, 20.3 million recovered cases. Asian hotspots such as India and Brazil continued to see record highs of intraday cases, while the number of cases in some European countries increased rapidly.
Latin America buys tens of millions of doses of Russian vaccine
Brazil announced that it had an additional 40,557 cases of COVID-19 in the past 24 hours, bringing the total number of cases in the country to 4.2 million since the outbreak. To date, Latin America has more than 8 million cases of COVID-19 with hot spots such as Brazil, Mexico, Peru, and Colombia. Brazil is the most affected country in the region, currently has the third cocoa volume in the world after the US and India.
The state government of the Bahia state of Brazil said the state had signed a phase 3 test agreement for Russia's Sputnik V vaccine. Under the agreement, the state will receive 500 doses for testing in October 2020. If successful, the state of Bahia will bring the Russian vaccine into the domestic market.
Some sources said that Bahia will pledge to buy 50 million doses of the vaccine from Russia.
In addition, Mexico has also signed a commitment to buy 32 million doses of Sputnik V and is expected to receive goods from November 2020.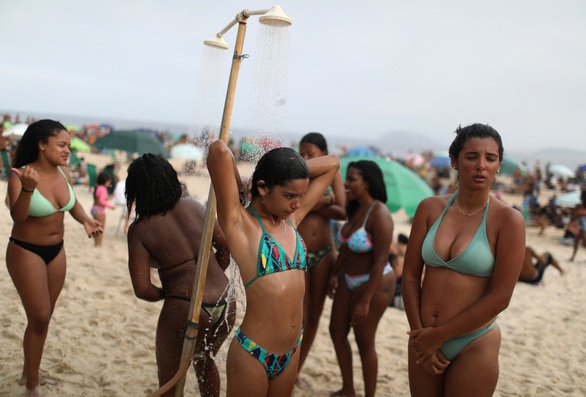 A crowded beach in Rio de Janeiro, Brazil, September 6 – Photo: REUTERS
AstraZeneca claims there is still a vaccine at the end of the year
British pharmacy AstraZeneca said it could still provide the vaccine against the acute respiratory infections COVID-19 later this year, although a clinical trial involving the vaccine is temporarily suspended.
"We may still have a vaccine later this year, or early next year," said AstraZeneca CEO Pascal Soriot.
The company earlier announced it would stop testing a vaccine understudy with Oxford University after a British volunteer developed an unexplained illness. An independent committee was formed to consider the safety of this study.
The vaccine AstraZeneca is developing, called AZD1222, is one of nine potential COVID-19 vaccines in the world that are in phase 3 clinical trials.
In the US, AstraZeneca ran the test on 30,000 volunteers in dozens of locations from August 31. Meanwhile, many smaller groups of volunteers are also being tested in Brazil and elsewhere in South America.
Countries tighten anti-epidemic measures
France recorded the highest number of cases of COVID-19 in a day ever, more than 10,000 cases on September 10. The French cabinet meeting on September 11 is expected to discuss the announcement of the new blockade measures. Up to now, the president and the French prime minister still oppose a nationwide blockade.
Meanwhile, in Spain, the Basque region government decided to close Zaldibar Primary School after some teachers tested positive for the SARS-CoV-2 virus. This was the first school that had to be completely closed in the first week that students across the country were allowed to return to school after 6 months of absence from epidemic rooms. Before that, some private classrooms had to study remotely and some groups of teachers had to be isolated.
According to updated data, Spain so far has recorded a total of 543,379 cases, of which 29,628 deaths.
Similarly, Portugal imposes stricter restrictions on the eve of the new school year. Accordingly, the gatherings will be reduced from 20 to 10 people, while the sale and drinking in public places will be banned.
United Nations calls for solidarity
World Health Organization (WHO) Director-General Tedros Adhanom Ghebreyesus has called on countries around the world to join hands in contributing resources to implement measures that can help prevent acute respiratory infections. COVID-19.
According to Mr. Tedros, up to now, the lack of solidarity is the most worrying issue. "Because when we lack unity, we are divided and that is a good chance for the virus and why it is still spreading. We need unity, we need global leadership, especially from the great powers. world, "AFP news agency quoted Mr. Tedros as saying.
Mr. Tedros also said that WHO has implemented the ACT-A program (Accelerating the balance of tools to respond to the COVID-19 epidemic), which supports research on vaccines, drugs, and diagnostic tests.
However, he also stated: "We need to rapidly scale up clinical trials, production capacity, licensing and regulation so that these products can be applied and saved lives."
Meanwhile, United Nations Secretary-General Antonio Guterres has called on the international community to contribute an additional $ 35 billion to the ACT-A program, of which $ 15 billion should be disbursed in the next three months.
"We need an additional $ 35 billion to go from 'start-up' to 'scale and influence'. This money is really urgent. Without another 15 billion USD in the next three months, they will let it slip away very quickly, "said Guterres.