Mergers are a hard way for European banks to resist the devastation of the Covid-19 epidemic and now their lives are more fragile than ever.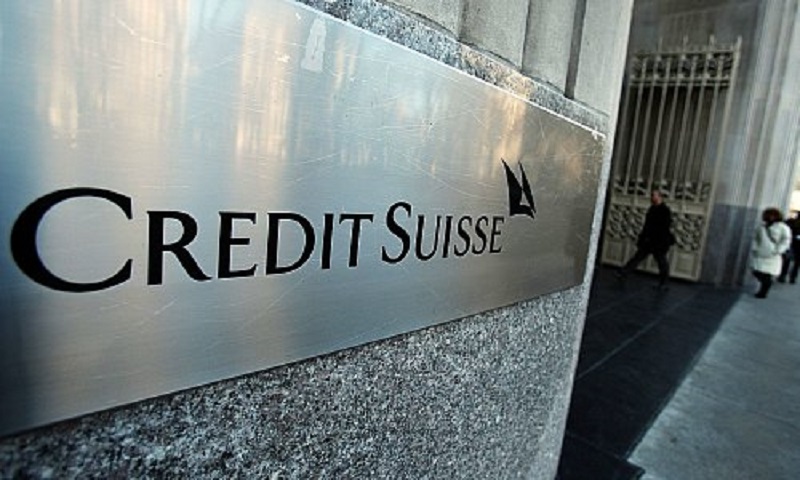 Credit Suisse is in the sights of acquiring "giant" bank UBS Group.
The "pain" will break out next year
The Covid-19 pandemic pushed weak banks in Europe into a situation of merging, expanding scale or "dying". In European capitals, many banks are looking to merge after a decade of low returns. Along with that, they plan to deal with a prolonged period of low interest rates, bleak economic prospects and rising bad debts as borrowers have difficulty maintaining jobs and doing business during the Covid era. -19.
This situation is evident in the countries heavily affected by Covid-19, for example Spain and Italy or even countries running out of money to stimulate the economy like Greece.
Banks are also stuck in raising capital from investors due to the sharp decline in stock prices. Special index Stoxx Europe 600 Banks of the European banking industry "evaporated" 40% from the beginning of the year until now. Trading value is only a fraction of the net assets of European banks, a sign that investors are skeptical about the survival and profitability of these banks.
João Soares, financial consultant of Bain & Company Management Consulting (USA) predicts that the "pain" of European banks will really begin in 2021 and by then, they need to prepare to face "storms".
The European Central Bank (ECB), which oversees the region's largest banks using the euro (Eurozone), recently issued a draft guidance on how to handle some common issues. in merger activity to encourage banks to have the intention of making the deal.
"Before the Covid-19 crisis struck, cost cutting and banking restructuring were important requirements," said Luis de Guindos, vice president of the European Central Bank. recently. Mr. Luis de Guindos said that the pandemic accelerated that request and urged banks to merge urgently.
Merger is vital
Mergers, in particular a move to pick up and close overlapping branches and lay off large numbers of staff, are being identified by European banks as a solution to streamline balance sheets. and at the same time help to cut down large amounts of costs.
"Giant" UBS Group of Switzerland is considering a plan to acquire domestic competitor Credit Suisse. These are the two leading Swiss banks that have coped better with the pandemic than other credit institutions in Europe, thanks to their focus on global asset management while the domestic economy is relatively low. strong.
Bank experts said that the merger of the two "big" Swiss banks has been a topic of discussion for a long time and has recently been identified by UBS as a solution to help reduce costs and maintain competition against competitors in the US and other countries in Europe. However, there is currently no official negotiation between the two sides. Experts say many barriers will have to be removed to facilitate the merger.
A source familiar with the Wall Street Journal said that in Spain, a country heavily affected by the Covid-19 pandemic, CaixaBank SA is in the process of acquiring Bankia SA to form the largest bank in the country. Banco de Sabadell SA is also considering many options, including a merger with a domestic partner.
In this regard, a spokesman for Banco de Sabadell SA confirmed that the bank still has plans to operate independently, but will study the possibility of raising capital.
Mr. Christian Sewing, CEO of Deutsche Bank AG (Germany) – the bank failed to negotiate to buy rival Commerzbank last year – recently said that Deutsche Bank wants to implement a merger if profit is improved, while Commerzbank itself is also having difficulty in making a profit and may have to "marry" a suitable partner.
The wave of mergers and acquisitions (M&A) among European banks has been mentioned a lot in the past decade because countries in the "old continent" have a distributed banking system with too many member banks and return on equity (ROE) is very low or even zero.
ROE rates, an important measure of profitability, of European banks fell to 1.3% by the end of the first quarter of 2020, from 5.7% at the end of 2019. While many banks European products are struggling to cover costs, in the US, banks have grown up with the same economy over the years and they even invest heavily in technology innovation and capital accumulation. need to raise capital from shareholders.
The wave of M&A in the European banking industry is facing difficulties due to legal barriers and the formation of a management team after the merger. Many exchanges between European banks have taken place internally and have not yet been transformed into formal M&A negotiations. Most of those exchanges stop at the level of domestic agreement to cut operating costs without going to a cross-border deal. Therefore, for the deal to be completed, it requires deeper intervention and disassembly by the governments of Europe.
However, the current situation makes the wave of M&A of European banks soaring and becoming a must-do than ever, according to bank executives and industry experts. "We are on a hiatus. And when there is an interruption, we have to react to it," Bankia President José Ignacio Goirigolzarri said.
Two weeks after the announcement of the merger, Bankia and CaixaBank have agreed to a merger agreement and the reason for the merger is due to the impact of the epidemic and the low profitability due to prolonged low interest rates. Before that, Bankia almost collapsed and was rescued by the Spanish government and retained a large amount of shares in 2012.
Chairman Bankia said that the merged unit will hold about 25% of the loans and deposits of Spain and collect about 900 million USD in annual expenses. According to World Bank data, Spain has a higher ratio of bank branches per capita than most any major economy in the world, with about 55 banks per 100,000 people, nearly high. double that of the US.
A series of other banks in Europe are also promoting internal exchanges to find the way out to the Covid-19 era, including the plan of merger. Even banks with better "health" status, which are not interested in merging, are now looking forward to joining forces soon when European governments are anxious to find saviors for weak banks.
On the other hand, many other lenders are re-positioning themselves if they have to conduct cross-border M&A deals.
"Merging is, right now, a vital move," said one banking official in Spain: "Banks need to scale up to deal with the instability caused by Covid", this person added.
From the beginning of the year until now, the business results announced by European banks have been relatively stable, giving the feeling that they are coping well with the severe global and continental recession.
However, looking deeper into the problem, the relatively stable result of the banking industry is thanks to the efforts of European governments in implementing economic stability solutions, specifically pumping money for business. business to maintain jobs for people and require banks to suspend customer debt collection. Once the above support programs were lifted, analysts warned that there would be a wave of defaults from European banks, pushing weak "health" banks to the brink of bankruptcy.