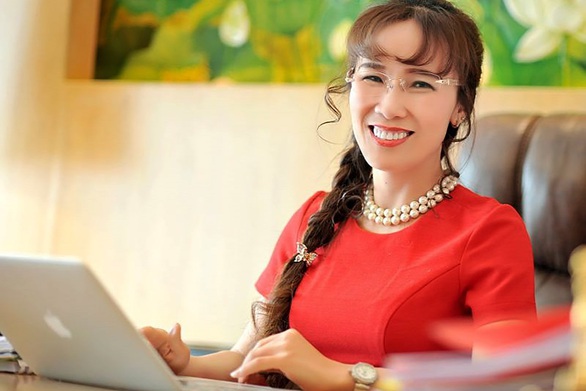 Billionaire woman Nguyen Thi Phuong Thao, Vietjet General Director
Also on the list are many famous names of leading companies in the region such as Edward Cheng, Vice President of Tencent (China); Kelly Zhang, CEO of Bytedance (Tik Tok's parent company); Han Seong-sook, CEO of Korea's top search site Naver; Terence Pang, CEO of Shopee …
Billionaire Phuong Thao is ranked 2nd out of 10 people honored in the Supply Chain group, alongside other prominent figures such as Tan Hooi Ling, founder and CEO of Grab; Lee Seow Hiang, CEO of Changi Airport, Singapore.
According to Business Insider, Ms. Nguyen Thi Phuong Thao is the first self-made female billionaire in Vietnam and a person to "do things differently".
Mrs. Thao was the founder of low-cost airline Vietjet in 2011 and has gradually built Vietjet to grow and become a famous airline in the region.
It was Vietjet who created a boost in demand for air travel in Vietnam, which was previously considered only for the rich. Vietjet currently has routes to all provinces and cities in Vietnam as well as other countries in Asia.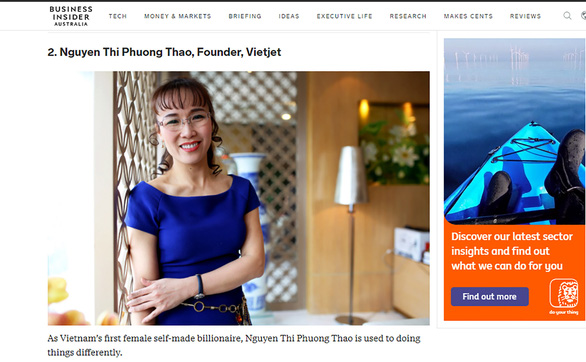 Billionaire Nguyen Thi Phuong Thao is evaluated by Business Insider as a person to do different things
According to Business Insider, earlier this year, its share price doubled compared to when it was first on the stock exchange in 2017. Although the Covid-19 translation has had a strong impact on the aviation industry, Vietjet's financial situation is still stability.
Recently, Vietjet announced its reviewed financial report for the first half of 2020 and recorded a profit of VND47 billion.
In an interview with Forbes magazine, Phuong Thao said her long-term goal is to make Vietjet the first global airline in Vietnam, with the expansion of flights to Europe and North America.
Business Insider's list of Asian economic transformers is divided into three regions: North America, Asia and Europe.
The regional listings will feature influencers in a range of industries, from managers at global companies, start-up founders to product strategists and technology as well as industry activists.
Among them, the 100 list in Asia is divided into different industries: including consumer technology, energy, technology companies, finance, healthcare, investment, manufacturing, media and advertising. advertising, retail, and supply chain.