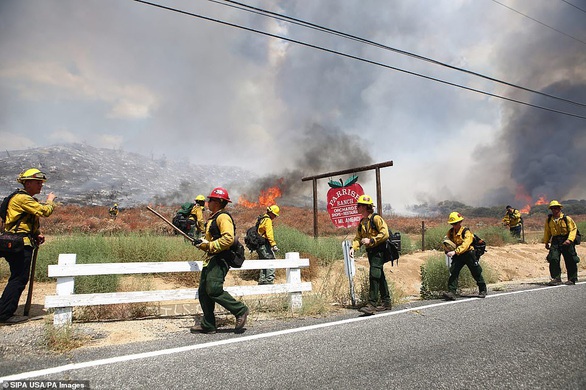 More than 500 firefighters were mobilized to stop the wildfire named El Dorado – Photo: SIPA
Newspaper Daily Mail Citing sources from the California Forest and Fire Prevention Agency (Cal Fire) said the firework at a family party was the cause of wildfires in the south of the state, which burned 2,800 hectares of forest. and forcing many people to leave their homes to take refuge.
According to the agency above, this fire, called El Dorado (due to start from the El Dorado park), broke out at 10:23 am September 5 in the eastern area of ​​San Bernadino city.
On the evening of September 6, Mr. Bennet Milloy – spokesman for Cal Fire – said the cause of the fire was a smoke-generating device used in the party "disclosing the sex of the fetus".
"We know how the fire started. When the firefighters arrived, the family party was still there. We also have a lot of security cameras in the area," said Milloy.
More than 500 firefighters and four helicopters were mobilized to put out the fire, while several communities in the area were ordered to evacuate.
The agency added that those who caused the fire could be held financially responsible with fines of up to many million dollars and criminal liability.
Before the aforementioned wildfire, a forest fire also occurred over the weekend in the northern California area, causing rescuers to use helicopters to rescue 200 people trapped near the Mammoth Reservoir in the northeast – Fresno city.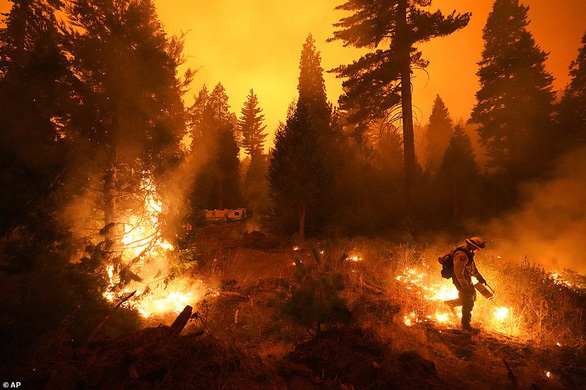 The scary scene of a forest fire in California – Photo: AP
California is experiencing one of the most intense wildfires this year. During the last three days of the weekend, California experienced record high heat, exacerbating an already dangerous fire situation and increasing stress on an already exhausted fire force.
Most areas experienced extreme heat conditions on September 6, with Los Angeles recorded temperatures of up to 43 degrees Celsius, further intensifying the intense wildfires.
Up to now, at least 8 people have been killed and about 3,300 structures destroyed in wildfires occurring throughout California.