You are reading the Sports.ru blog and ivi online cinema – here we recommend the best movies about sports. On the ivi platform you can browse a selection of the best sports biopics according to Sports.ru, and in this text – learn more about the three films from there. All of them are available on ivi using our SPORTS promo code.
"Pablo Escobar. Narco-Atlético "
Director: Alexey Smolyaninov
Year: 2020
The perfect complement to the Narcos series. The unknown side of Pablo Escobar – a man who gained political points through football and indulged in excitement. The documentary tells about the time when football in Colombia was a competition of drug lords, and Pablo himself owned two clubs – Atletico Nacional and Independiente.
Escobar invested millions of dollars in football not only because of his great feel for the game but also because it allowed him to launder dirty money. Tickets for matches were sold for cash, and the team owners inflated costs and transfers. But football was not only a business but also entertainment. Pablo put a lot of money on his clubs and, as the film quotes him, said to his friends: "Gather the best team, fly to my ranch and make a bet. The winner gets two million dollars. "
There were not only other drug lords at Escobar's ranch. In the slums of Medellin, Pablo built football fields, where many of the Nacional players started, they loved Escobar and were happy to come to his house – they celebrated victories and even carried freight trains.
"When there was a lull in the war between the Medellin cartel and the government, we watched football," says John Jairo Velazquez Vasquez, a friend of Pablo Escobar's from the Medellin cartel. – It was Pablo's passion, the ability to disconnect from problems. He was happy when he watched the games. We ran away, the authorities were hanging on our tail, but he continued to listen to the broadcasts of the games. Before we were surrounded in Magdalena Medio, we ran for 15 days and at some point we're left alone with Pablo, hiding in a ditch. I felt that the troops were about to find us, I was very worried. Suddenly Pablo screamed. I thought we were finished – the troops were approaching. I quickly loaded the machine gun and got ready. And he turned to me and said, "Colombia scored."
The most textured 38 minutes – with atmospheric shots, unthinkable dialogues, and powerful interviews (there is even Carlos Valderama).
"Lobanovsky forever"
Director: Anton Azarov
Year: 2016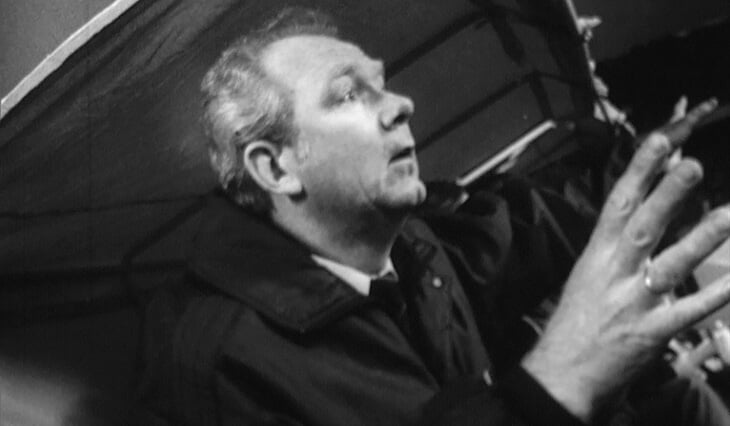 I wrote several texts about Lobanovsky and his entourage (one, two), so I was very imbued with the work and views of the coach. I was afraid to watch Lobanovsky Forever, but, as it turned out, in vain: a seasoned documentary with rare archival footage and an interview with a football revolutionary. The main power lies in diverse speakers: politician Leonid Kravchuk, managers Grigory and Igor Surkis, coaches Carlo Ancelotti (yes!) And Jozsef Szabo, football players Shevchenko, Shovkovsky, Belanov, journalists, including the former editor-in-chief of France Football, Jacques Ferrand.
The film is good at least because it gives a complete portrait, and the stories are devoid of water and cliches: the heroes remember the coach so warmly that at some moments you can safely turn off the sound – everything is readable by the eyes and smiles. At the same time, the film is honest and reveals all sides: childish charm, love for numbers and tactics, and the evolution of inner demons.
Toward the end, Shovkovsky pronounces an idea that could well fit in with the documentary's slogan: "You have no strength, but you get up and do further." When you have no strength, turn on "Lobanovsky forever" – it will become easier.
"Ford vs Ferrari"
Director: James Mangold
Year: 2019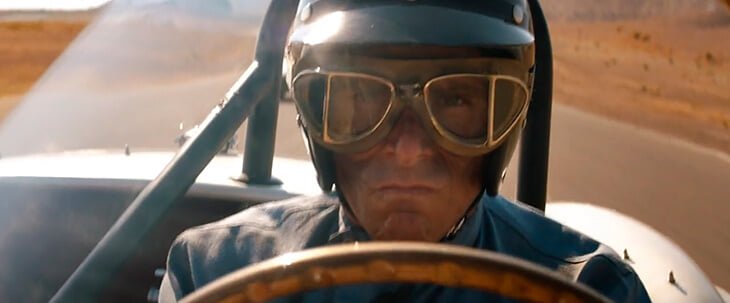 My favorite film on the list is because of Christian Bale, Matt Damon, and a very high-quality script + stylish picture.
When Henry Ford fails to buy a Ferrari, he asks to build a GT40 and win the legendary race at Le Mans, where Ferrari has a monopoly on success. Carroll Shelby (Matt Damon) is the name of building new victories, a great racer who took Le Mans in 1959, and then doctors found he had heart problems. Shelby, no longer a racer, but a designer, call on Ken Miles (emaciated Christian Bale) to drive the car – insanely talented and insanely mischievous.
Of course, this film is not about "Ferrari" and "Ford", but only about "Ford". And even more precisely – about a person who is opposed by an entire corporation. Shelby and Miles struggle with the auto giant's sleepy bureaucracy, the conspiracies, and meanness of top management, the whims of the boss. All Hollywood notations are followed: despair, inspiration, dreams of greatness, and second wind.
The rides are gorgeous and really fun to follow (hello, Oscar for Best Editing), but despite the fast scenes, Ford vs. Ferrari is a very fluid and stubborn movie. The timing of 2.5 hours can be scary, but you definitely shouldn't tremble. This is the case when you may not know anything about history and races in general, and this does not turn into a problem: the film was made with such love and attention that it is a pleasant honor to discover something new with his team.
In general, "Ford v Ferrari" is your only chance to love the race if you haven't experienced anything for it until now.
"Ali"
Director: Michael Mann
Year: 2001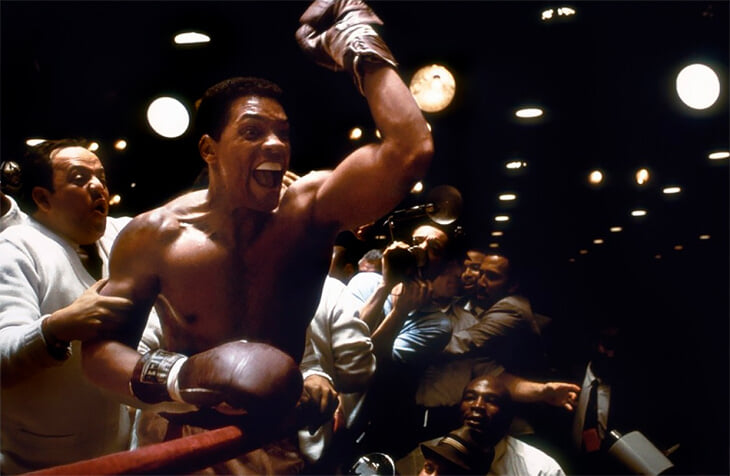 I'm sure you've watched, but if not, be sure to turn it on. Ali is arguably the best feature film about Cassius Klee. 11 years of the life of a great boxer in 2.5 hours – from the victory over Sonny Liston in February 1964, which made Cassius the world champion, to the fight with George Foreman in 1974, when it was not Cassius, but Mohammed, who returned the title.
They spent $ 100 million on the film, and almost the entire budget could be safely transferred to cameraman Emmanuel Lubezki ("Sleepy Hollow", "The Survivor", "Birdman") – this is a very beautiful movie that can only be watched because of the chicly arranged frames. Lubetzky brilliantly coped with a very difficult task: he painted a whole world that changed with Ali – neon signs of bars in the 60s were replaced by ardent shots of student unrest, the viewer travels with the hero across the United States and flies to Africa, and Lubetzky is not shy about using a hand-held camera.
Director Michael Mann made a cunning move and completely forgot how hard Ali climbed to the status of a pro and how mercilessly he was devoured by Parkinson's disease. The entire film is a hymn to the greatness of the boxer, who learned the status not only through knockouts but also through new locations, power, and the attitude of loved ones. Only Ali does not bathe in popularity, but rather fulfills a mission.
People who are not about sports are lured by the name of Will Smith, and he certainly did it, but he did not make an outstanding one: he played softly, equally, and did not tie the name of Mohammed to his role, although the association could be eternal. Perhaps this is the mistake of the creators, who made the film too serious: Ali often looks gloomy, sullen, and one-sided, although this does not fit in with Will Smith's skills.
Nevertheless, "Ali" is a powerful movie about an outstanding master who showed that there is always a place for art in the ring.
You can find out about the rest of the films that we recommend to watch in a selection of the best sports biopics in the ivi online cinema. To rate these tapes yourself, use the SPORTS promo code.
Photo: imdb