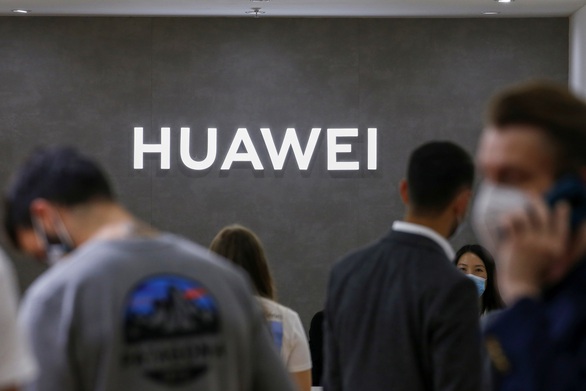 Huawei logo at a technology fair in Berlin, Germany on September 3 – Photo: REUTERS
If they want to continue doing business with Huawei, these suppliers need to obtain permits from the US Department of Commerce, according to an announcement issued by the US Department of Commerce on August 17 when Washington tightened the restrictions on Huawei's access to the country's technology.
Go back 10 years
It is not clear whether the US will make concessions or take any light-handed measures if the parties apply for permission to continue business.
As we enter the "new world," many of the components critical to Huawei's operations are at risk: from key semiconductor materials to camera lenses and even printed circuit boards. Since the end of 2018, Huawei has stockpiled the chips, but it is not clear if the company has collected all the necessary electronic components such as screens and camera lenses.
"Electronic devices are very complicated. Without any one of the components, you cannot completely assemble devices such as smartphones, laptops" – Mr. Ngo Gia Chieu, Chairman of the company technology South Asia (Taiwan), said.
And To Tu Van, director of the Taiwan Defense Security Research Institute and a supply chain expert, said that Huawei might be looking for some low-end components instead. "However, that can make Huawei products less competitive and even go back to their place 10 years ago" – Mr. To noted.
Huawei's entry into the "new world" could be a moment that has a major impact on the industry. Huawei suppliers will then lose a large customer.
Huawei's competitors in consumer electronics and telecommunications equipment such as Apple, Samsung, Xiaomi, Oppo, Vivo, Ericsson and Nokia will be ready to capture market share. Companies buying Huawei 5G equipment must also find alternatives.
US attacks against Huawei
In May 2019, the United States put Huawei on a trade blacklist, restricting the company from using American technologies by requiring US suppliers to obtain government permission before selling to Huawei.
By May 2020, the US restricts non-US manufacturers – such as Taiwanese chipmaker TSMC – from making any products for Huawei and HiSilicon (a Huawei subsidiary) if they do this export uses US equipment.
In August 2020, the US banned all suppliers using US technology from selling to Huawei without a US license.
Semiconductor materials is the focus
Huawei's rapid rise and its relationship with Beijing have long been a concern for the US. However, tensions have increased significantly under President Donald Trump, especially since Ms. Meng Wanzhou, Huawei CFO and daughter of Huawei founder Ren Zhengfei, was arrested in Canada following the request. of America.
"Huawei and its overseas affiliates are increasingly seeking to acquire advanced semiconductor materials developed or produced from US technologies and software to achieve Chinese policy goals" – US Secretary of Commerce Wilbur Ross once stated.
Semiconductor materials play a key role in the technology race as the US and China are vying for dominant positions in areas like artificial intelligence (AI) and quantum computing. And the restrictions the US imposes on Huawei are only part of the confrontation between the two countries.
However, James Andrew Lewis, director of the Technology Policy Program at the Center for Strategic and International Studies (CSIS) in the US, commented that it will take at least a decade for China to catch up with the United States. high-end chip manufacturing capabilities – which requires high precision and scientific skills. He argued that recent US measures could slow this process down.
As for China, this country has many advantages such as willingness to spend, invest heavily in technology and is determined but also have many disadvantages. "We are only at the beginning of a greater conflict – where technology, economic forces and possibly the appliances of your kitchen will play a larger role" – James Andrew Lewis Comment.
TikTok sold to Oracle?
On September 14, US media reported that ByteDance, the parent company of the short video sharing application TikTok, will officially choose Oracle Corporation of America as TikTok's "reliable technology partner" in the US.
According to Reuters, this practice is supposed to avoid the US ban, while "appeasing" China. However, CGTN (China) on the same day, citing sources confirmed that ByteDance will not sell TikTok's business in the US to Microsoft or Oracle.
With the imposition of restrictions on the Huawei Group or the enactment of executive orders prohibiting transactions with Tencent (the owner of WeChat) or ByteDance …, the administration of President Donald Trump is showing its increasing efforts. put pressure on a series of Chinese technology companies.