Gone are the days of quarantine that affected the whole world, when we locked ourselves at home due to Covid-19. At Estepera we are happy to continue treating our patients since the beginning of July 2020, which is when the borders between Spain and Turkey were reopened, and to be able to continue doing our work. On the one hand, we must continue living under the "new health protocols" that are stricter than ever. At Estepera Hair Clinic, we wish and believe that the times in which we leave behind these days are close, but, as long as it continues, we will continue with the strictest sanitary measures so that new patients can organize their graft plans in Turkey with total peace of mind. Please, do not hesitate to contact us and clear all doubts, and of course free consultation, that is why we are to transmit confidence and security www.estepera.com/es/
Is it safe to travel to Turkey for hair transplantation during the pandemic?
Turkey is currently on the list of low-risk countries, as endorsed by independent media and official sources. From July 10, 2020, freedom for non-essential travel to Turkey is given. In addition, the Republic of Turkey, the Ministry of Culture, and the Tourism Promotion and Development Agency have taken the lead in the necessary precautions. These are covered by the Tourist Protection Health Insurance and safe travel practices within the security precautions adopted to prevent Turkey from entering the next level of alert.
In this article, we want to answer frequently asked questions from our patients who will be traveling for the hair transplant during the pandemic, or who already wanted to travel for hair transplantation before the pandemic. We share with you our security precautions regarding Covid-19.
Is it safe to travel by plane for hair transplantation while the Covid-19 alert is still on?
Several precautions are taken upon arrival in Turkey. First of all, people with high body temperature, symptoms, etc. are not allowed to enter the country and those who do not wear a mask are prevented from entering the airports. Likewise, it is mandatory to wear a mask throughout the flight. An appropriate procedure is followed to maintain social distance at the airport and during boarding, in addition to continuous permanent ventilation inside the plane every 2-3 minutes, expelling the air vertically and with filters to achieve the purest air with a 99.7% efficiency according to the Air Lines Association (ALA) and Airbus. Therefore, it is safe to travel to Turkey.
Has Estepera taken precautions with the Covid-19 for the vehicles it uses in VIP transfer services?
Our vehicles, where we transfer our patients from the airport and with which we provide transportation between the hotel and the clinic, are constantly disinfected within the precautionary measures against Covid-19. The health status of our drivers who accompany our patients on their trips is monitored through regular tests. The distance between the driver and the patient is such that it provides the necessary isolation within Covid-19 precautions. As a Estepera hair clinic, our priority is your health.
Is it safe to stay in a hotel?
With the precautionary measures against Covid-19 taken in the field of tourism in general and especially health tourism, you can stay in 5-star hotels with complete peace of mind, since we take special care, taking measures even more extreme if possible cleaning and disinfection of all rooms under the supervision of the hotel management.
Am I safe during my time in Turkey for hair transplantation?
The biggest advantage of hair transplantation in Turkey before the pandemic was obviously being able to visit one of the most beautiful cities in the world, Istanbul. Enjoying shopping in malls or in the Grand Bazaar, eating kebabs, visiting the historic peninsula are things that you can continue to do, although with more caution as you already know and always after the hair intervention, using the masks, avoiding crowded areas and closed spaces, in addition to using its hydroalcoholic gel.
Turkey, thanks to the sophistication of measures to comply with the health care system at the beginning of the pandemic, has managed to become one of the most successful countries in the world in terms of Covid precautions. Thanks to the measures it has taken in relation to tourism, it has been entering and leaving the country with the highest level of caution to date. Therefore, you can travel to Turkey for hair transplant surgery with peace of mind.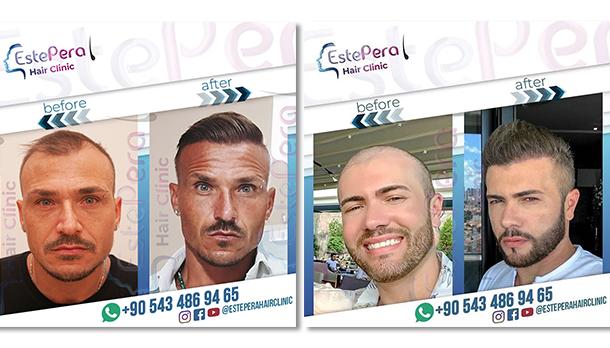 Is hair transplantation the right decision in a pandemic?
Hair transplantation is not, of course, one of the essential needs that we will count among the first three in the ranking of vital importance or yes for you, but you must bear in mind that, now more than ever, we take more measures being very strict with the new protocols of our Ministry of Health. In Istanbul, we continue to perform other aesthetic and medical interventions with the same frequency on both local and international patients.
We can safely say that the days of the pandemic are not a bad time for hair transplantation, and you can even see it as a more appropriate period because there is an additional precaution in hygiene and health measures that increases safety and quality if possible. of the operation of hair transplant. Once the hair transplant has begun, which is a surgical operation that requires meticulousness under normal conditions and is performed in full compliance with global health standards, we are not exaggerating if we say that nothing has changed.
Although we, therefore, assure that the protocol before hair transplantation operations during Covid 19 are in place as follows:
-With the PCR tests and blood tests carried out before all interventions, we make sure that the patient does not have Covid 19.
-The entire team (doctors, nurses, administrators, driver, etc.) is constantly tested every week to avoid as much as possible the possibility of spreading the virus.
-All measures necessary for the safety of patients and clinical staff are strictly enforced.
-Hygiene is provided more precisely and continuously than ever.
I have already passed the Covid-19 disease, can I travel to Turkey for a hair transplant operation?
It may be the case that you previously contracted this disease. If so, you should inform us to guide you and to be able to inform you of the steps to follow in your country until we are totally sure that you cannot infect. Once you have passed it, your pre-travel test results are negative and you want to travel to Turkey for the graft.
Once you have your appointment for the hair transplant operation, if before coming to Turkey you contract the virus, the hair transplant surgery will be postponed. Hair loss can increase on these stressful days, this is very normal. You can overcome your hair loss panic a little more easily by contacting us. Together, we can get through these difficult days, where we clearly understand that health is more important than anything else.
Did the pandemic affect the price of hair transplant operations in Turkey?
The highest quality service, the most successful implantation operations, and the lowest price continue to meet a rapidly growing transplant demand every year and without prices in Turkey being adversely affected by the pandemic. Like Estepera, we continue to keep our prices where they normally were. We think that it is unethical to try to make the economic anguish caused by the current situation tolerable with rising prices.
Health tourism has served nine hundred thousand to one million patients in the last year who have met their 2020 target. We have faith that Turkey's health tourism, as soon as the days of the pandemic pass, will strengthen forever. The experience of the sector, our understanding of quality and health in our work are our best guarantee. We sincerely hope that these bad days will pass as soon as possible and that the times will come when we can travel the world with joy and confidence.