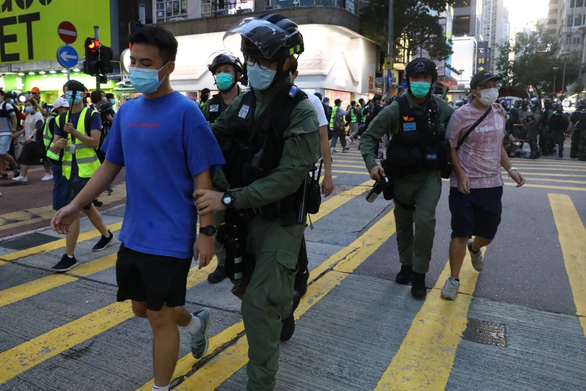 Police arrested a protester in Mong Kok area, Hong Kong – Photo: SCMP
According to the newspaper New York Times (NYT), thousands of police armed with riot protection tools were present to keep order in the Hong Kong Special Administrative Region on September 6 as protesters swarmed into the streets to protest the decision to delay the legislative assembly election and enforcement of new security laws.
Police are concentrated on the streets of Kowloon, where some activists call for a September 6 march and are expected to mobilize 50,000 people to protest.
Hong Kong legislative elections were postponed for a year due to pandemic reasons, but according to protesters, the real reason is the special zone government did not want some of its candidates to lose.
On the evening of September 6, heavily armed police were also sent to the area, hours after the police had to use tear gas to disperse the crowds.
Despite being arrested or fined under the epidemic prevention regulations, protesters still gather in large crowds. However, as noted by the NYT newspaper, the scale of the protesting crowds was still smaller than last year.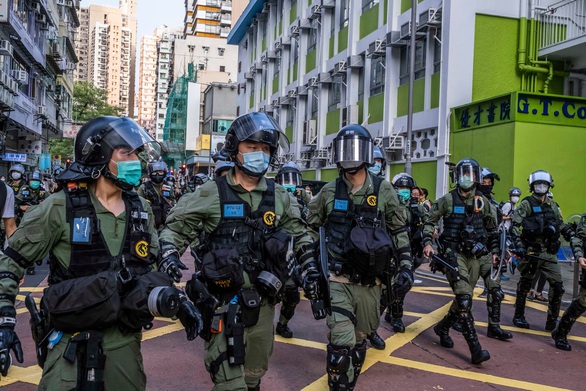 Hong Kong police are equipped with riot tools working in the special zone on Sunday, September 6, 2020 – Photo: NYT
Police intercepted and searched many people, arrested 289 people suspected of gathering illegally. Among them are Figo Chan, Leung Kwok-hung, and Raphael Wong, members of the League of Social Democrats, a left-wing organization in Hong Kong.
The special zone police report also said a person was arrested for violating the National Security Law after shouting a slogan in favor of Hong Kong's independence.