Knowing a new country is good, can you imagine two at once? Anyone traveling to Uruguay and going to the capital Montevideo has the opportunity to visit Argentina by boat. But how to get from Buenos Aires to Montevideo by boat? Or vice versa?
It is totally viable to visit the Argentine capital, for example, being in Uruguayan lands. In this post I tell you how to get from Montevideo to Buenos Aires and give some tips on this boat trip.
The best way to complete this route is via Rio de la Plata. There are several schedule options Buquebus, the best known of the companies that cross from Uruguay to Argentina.
It has boats famous for their speed and comfort. By the same company, it is also possible to depart from Punta del Este, La Paloma and Piriapolis.
Argentina by boat: from Montevideo to Buenos Aires
Most of its routes to Argentina by boat include transportation by bus from Montevideo to Colonia del Sacramento, in the Uruguay and, from there, ship to Buenos Aires, in Argentina.
However, with Francisco (name given in honor of the Pope), the newest vessel in the fleet, it is possible to conclude the journey between the capitals without stopping.
The cheapest tickets (bus + ship) cost around 110 reais. This is the value of the one-way ticket.
Among the other companies operating in the area are Seacat and the Colonia Express. They have smaller and less luxurious vessels, but with more affordable value.
It costs from 130 reais for the full boat trip to Buenos Aires, while on Buquebus, via Francisco, it is around 300 reais.
Passing through Cologne
As Colonia del Sacramento is located between Montevideo and Buenos Aires, many people take the opportunity to visit the small Uruguayan city when they leave Argentina by boat.
Whoever intends to spend the day in Colonia del Sacramento before embarking for Buenos Aires, should prefer to buy a separate bus ticket. This is because the interval between the arrival in Cologne and the departure of the ship towards Buenos Aires, by Buquebus, is short. For the other companies, there is no package with bus integration.
Those who prefer to stop in Cologne on the way back from Buenos Aires can choose one of the companies mentioned to go to Cologne. From there you must take a bus to Montevideo anyway. On the Tres Cruces, a mix of bus station and shopping mall in Montevideo, all schedules and companies that make the route using road transport can be viewed.
Types of Buquebus tickets
A very common question for travelers who want to leave Argentina by boat concerns the different tickets sold by Buquebus. There is no clear explanation on the website.
I got in touch with the company to get more complete information, but unfortunately I didn't get a response.
So, I will give a quick explanation based on my experience and what I found on the internet. Are available until four types of tickets: economic (only available in Francisco), tourist (scheduled or flexible), business and special.
My transfer was not in Francisco and happened in the winter period. Thus, there were no economic and special options, because, as I understand it, the second type included an external area and the climatic conditions did not allow it.
Did you know that Travel Insurance is essential for your safety abroad?
In addition to being mandatory in European countries, immigration from any country can request the document to allow or deny entry.
Make a quote online at Insurance Promo, comparing the price at the best insurers. Enjoy and get up to 20% discount using the VOUDEPROMO coupon, just click the button.
Know the main advantages:
Best price guaranteed, coverage of any travel insurance offer;
Medical and hospital assistance, flight cancellation and delay insurance, luggage insurance, medical expenses reimbursement and much more;
IS cheaper than buying directly from insurance companies;
Contract cancellation no fees up to 48 hours before the trip;
Installment in Regular price credit cards;
Purchases with bank slip have 5% discount;
Customer service 24hs in Portuguese.
Among the remaining options, tourist and business, I preferred the second. The difference between them is that the business cabin is in a restricted, more spacious area, with more comfortable seats and may include the offer of sparkling wine and canapés. I say that it can include why this happened only on the way to Argentina, with Atlantic III – the return was by Silvia Ana.
The tourist cabin space is more cramped, full, a little noisy and busy, but not bad. Anyway, I recommend paying a little more for comfort, the difference in price is not that big.
Spaces vary according to vessels
The presentation of the environment, amenities, speed of transportation and transport capacity vary according to the vessel. Are six types: Francisco Papa, Juan Patricio, Eladia Isabel, Albayzin, Atrantic III and Silvia Ana.
In Atlantic III, the executive area consisted of large seats, positioned in pairs, in a large space. At Silvia Ana, it corresponded to an equally extensive environment, but with different armchairs, arranged around a table. The space for the tourist ticket was almost the same on both boats.
The Argentine blog Sir Chandler describes a trip from Buenos Aires to Cologne with the Atlantic III. On the day of the trip described in it, there was the first class (special) offer. From the photos, I could see that the space in this case was very similar to the one I stayed at Silvia Ana's executive.
And the business actually corresponded to the environment I occupied on the same ship, see on here. Also notice how the tourist class. At the uy.press, you can still check out the different cabins of Francisco.
Tips for a quick trip to Buenos Aires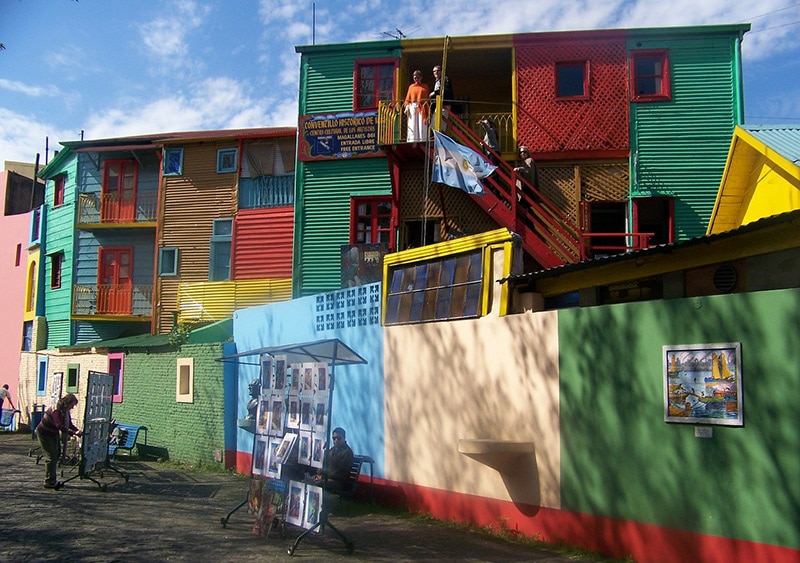 A short trip to Buenos Aires is ideal for those who already know the city and want to get to know some new attraction, visit a friend or simply kill the region. This is because there is much to appreciate in the Argentine capital and even the main tourist spots are unlikely to be covered in a trip of one or two days.
For those who want to take a risk, it's good to research and plan a lot. Access our complete guide with Buenos Aires travel tips to know everything about the place.
Old and new attractions worth visiting
Anyone who has been to the Argentine capital, depending on the season, may be left out of some news. Even places already visited can be rediscovered and better explored on a new trip. Below I list some of these attractions.
Did you know that learning through online courses has never been easier?
Watch your courses on your computer, tablet or even your cell phone!
Due to our partnership with Learn Café, you will have access to courses for all areas of knowledge, with high quality, convenience and in an accessible way. Online courses for you:
Learn fast and earn money;
Prepare for a new job;
Improve your curriculum;
Keep learning forever!
Graffitimundo
Organization created in 2009 that, among other projects, performs tours around the city with the intention of knowing and admiring the local urban art. There are free and paid options.
Néstor Kirchner Cultural Center (CCK)
CCK is one of the newest Argentine cultural spaces. Officially opened in May 2015, it occupies the structure of the old post office and is considered one of the most important in Latin America.
In addition to the relevant collection, the structure that houses one of the three concert halls known as La Ballena Azul (The Blue Whale) is noteworthy. Over it shines a great illumination composed of cubes that seem to float called La Gran Lámpara.
Its construction was marked by many controversies. It is questioned from the costs spent for the execution of the project, and its real need, to the legitimacy of the tribute paid to the former Argentine president in the name of the place.
When I visited CCK, there was an exhibition of the work of Jorge Luiz Borges. What prompted me is that there was a banner advertising the attraction right at the entrance of the Cultural Center with the following phrase: "La patria es el otro". I don't know if it was a coincidence, but one of the most used phrases by Néstor Kirchner was precisely "La patria we are all", An idea opposite to that of Borges. I imagine it may have been a subtle way for the current government chaired by Mauricio Macri to demonstrate his opposition to Kirchnerist thinking.
Puerto Madero
This is certainly one of the must-see places on a trip to Buenos Aires, even if it is not the first. In addition to being a beautiful place on the banks of the Rio de la Plata, the neighborhood, which has undergone a restoration process, has several restaurants, bars and cafes – the prices are usually a bit high. It is also a good space for a walk.
Is it worth going from Uruguay to Argentina by boat?
I think it's very worthwhile to stop by in Buenos Aires when traveling to Montevideo. The ship / ferry transfer itself is already an attraction in itself. If you have time, don't leave this tour out of your itinerary! And if, by any chance, you decide to go by car, stop by the Pueblo Edén in Uruguay, it's a charm!