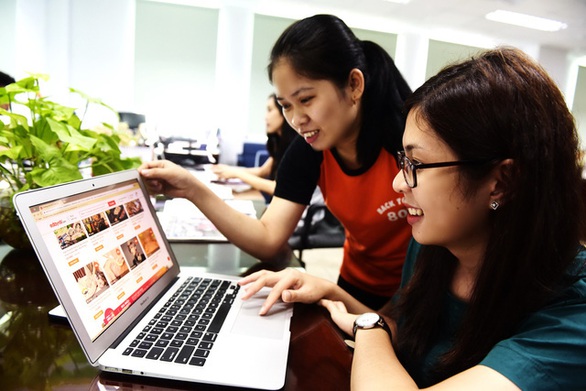 Translation COVID-19 has changed shopping habits, consumers prefer to shop and pay online – Photo: QUANG DINH
The HSBC Banking Economic Research Division has just released the report "The digital economy is booming" by economist James Pomeroy with the topic of pandemic COVID-19 increasing the changing trend.
According to this report, the COVID-19 pandemic has caused the world to consider how we have been seeing and evaluating digital technology in recent years.
"We all feel the world around us is increasingly digitizing. Everyone can read this report on a handheld digital device; or recently someone ordered an item on one. online shopping site. Or, in the past 24 hours, sharing news, music or photos on a digital page, "the HSBC report said.
In fact, during the last COVID-19 pandemic, digital has made it possible for people to work remotely, shop for goods and necessities online, as well as keep in touch with members. families in forms that no one had thought of before.
"It can be seen that the crisis is speeding up what is happening. The digital economy is expected to continue to rise, fueled by the gradual change in consumer tastes, demographic changes and the development of new technology.
Things are moving faster now. Think about the behavior changes caused by the pandemic. Certainly, many of these behavioral transitions will last forever, "HSBC said.
HSBC also estimates that by 2030, about 50% of goods consumption will be easily done through online channels in many developed markets. According to HSBC, the degree to which each country gets to 50% will vary widely and although this implies a huge change in consumer habits.
On the other side of the digital economy, a recent report by payment institution Mastercard said that, in the context of the global economy racing to adopt digital payment methods, The Central Bank is also looking to the future and looking for solutions to support innovation, while maintaining monetary policy and ensuring financial stability when issuing and distributing money.
Mastercard cites a recent survey by the Bank for International Settlements (BIS) that shows that 80% of the central banks surveyed are doing some digital money activities. In addition, approximately 40% of Central Banks have progressed from conducting conceptual research, concept to testing and design.
Mr. Raj Dhamodharan, Executive Vice President, in charge of Electronic Assets, Blockchain Products and Partnerships at Mastercard, said central banks have been stepping up crypto exploration with a variety of goals, from promoting financial inclusion to modernizing the payment ecosystem …
Recently, Mastercard has just announced a virtual testing environment for Central Banks to evaluate the use of cryptocurrencies.