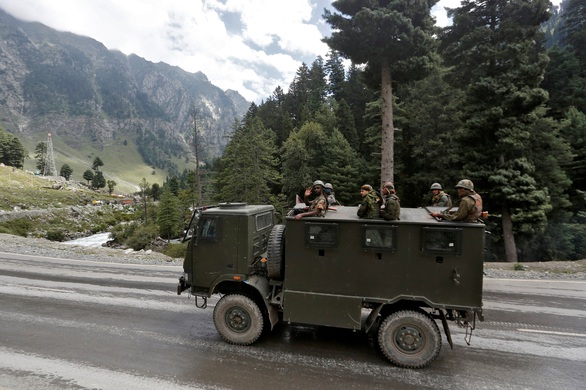 Indian soldiers moving on a highway leading to Ladakh region is tense with China – Photo: REUTERS
Reuters news agency on September 7 quoted Lieutenant Colonel Harsh Wardhan Pande, a spokesman for the Indian army, as saying five men were reported missing in the state of Arunachal Pradesh a few days ago.
"There are no clear lines running through the forest through the mountains, so these people may have moved to China. This is normal," said Mr Pande, who is an Indian commoner.
Suspecting that the People's Liberation Army (PLA) has arrested these people, Lieutenant Colonel Pande confirmed that the Indian army had called to China to ask questions directly on September 5.
"We called the PLA on the hotline last week and thought it was possible that some civilians accidentally entered the Chinese side. We said we would appreciate it if you give these people back. "Like we usually do with the Chinese".
When asked at a press conference on September 7, Chinese Foreign Ministry spokesman Trieu Lap Kien said he did not know the case of Indians "getting lost".
"By the way, Beijing has never recognized the so-called state of Arunachal Pradesh. We call that land Southern Tibet and it is under Chinese sovereignty," Zhao said.
The relationship between China and India – two of Asia's "nuclear giants" – has been repeatedly malfunctioning because the undefined border is nearly 3,500km long.
The Indian and Chinese militaries have repeatedly confronted each other in disputed border areas. Several cases have resulted in scuffles that killed dozens of soldiers, such as the Galwan valley incident in mid-June.
Arunachal Pradesh State is in eastern India, bordering Bhutan, Myanmar and the Tibetan region of China. Although New Delhi has managed a territory of more than 83,000 km2 For a long time, Beijing maintains that this is part of its territory.
China argues that the 1914 India-Tibet demarcation agreement, which led to the later formation of the Arunachal Pradesh state, was invalid due to the lack of representation by the Tibetan government at that time. signed with the British colonialists (then protecting India).