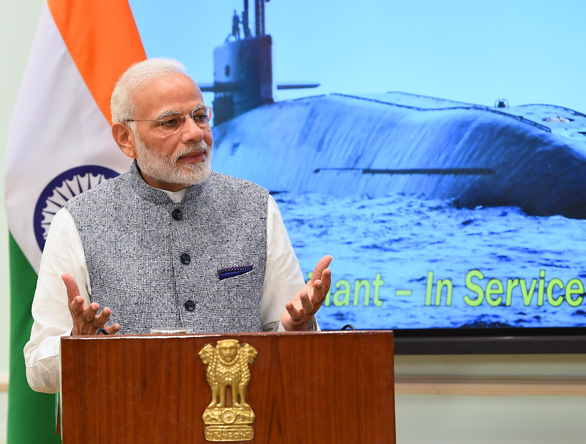 Indian Prime Minister Narendra Modi congratulates the return of the ship's crew INS Arihant from the first "deterrent patrol" in 2018. Behind him is one of the rare images of the first domestic nuclear submarine of India – Photo: TWITTER Narendra Modi
Page Naval News On September 7, citing sources familiar with the Indian military, the INS Arighat nuclear submarine was ready to join the Indian navy before the end of this year. The ship was launched in 2017 and is the second nuclear submarine built by India.
The details of INS Arighat are barely detailed. The launching ceremony of the ship in 2017 also took place quietly and was never mentioned publicly by Indian officials.
The Indian military shipbuilding industry often sees "records" of the time between launch and commissioning. India's first ballistic missile submarine, the INS Arihant, was launched in 2009 and joined the fleet after seven years of sea trials.
The fact that INS Arighat could join the navy in half a time shows India's efforts to improve the situation.
According to the Naval News, INS Arighat can carry twice the number of missiles of INS Arihant, thanks to eight vertical launch tubes on her back.
The INS Arihant is believed to be able to carry four K-4 missiles or 12 K-15 missiles with a range of 750km. Thus, the INS Arighat can carry up to eight K-4 missiles or 24 K-15 missiles.
Journal The Diplomat Japan said India had successfully fired a K-4 ballistic missile from a submerged launch pad in April.
With a range of over 3,500km, the K-4 is capable of carrying a nuclear warhead and is considered a naval version of the Agni family missile also developed by India. The K-4 is expected to become the backbone of the Indian navy's nuclear deterrent.
Although also capable of carrying a nuclear warhead, the K-15 missile was developed to target Pakistan because of a range of 750km. it could not hit China according to The Diplomat.
If the INS Arighat joins the fleet before the end of this year, India's nuclear submarine deterrence power will increase significantly in the Indo-Pacific region.
India currently has only two nuclear submarines in operation, including the INS Arihant and the other, the INS Chakra, which is the Akula class submarine leased from Russia.
China is believed to have owned six Jin-class nuclear submarines (Type 094) with 12 JL-12 ballistic missile launchers with a range of more than 7,000 km.