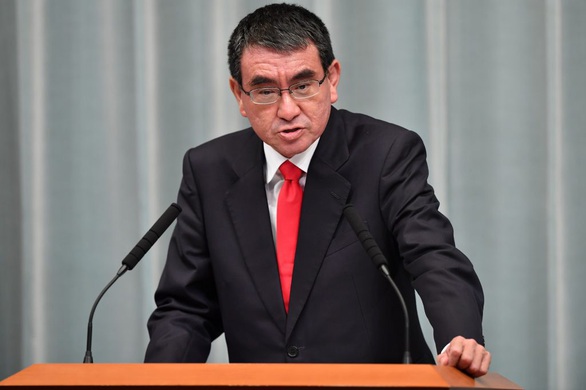 Defense Minister Taro Kono used to hold the position of the foreign minister of Japan, so he was very knowledgeable about the region and China – Photo: AFP
"In the past, when I was secretary of state, I always tried to avoid portraying China as a threat. But as now Japan's defense minister, I have to put it bluntly that China is a threat. a real security threat ", Mr. Kono emphasized in an online event held by the Center for Strategic and International Studies (USA) on September 9.
According to the Japanese minister, over the past 30 years, China's defense budget has increased more than 40 times. The number of Chinese submarines and warships is also increasing and up to now, China's military spending is four times that of Japan.
As its military capabilities increase, the Chinese military becomes more and more confident in activities that cause regional concerns.
"I take for example that in the 90 days from April to June this year, Japan Air Self-Defense Force planes have sortied out to prevent Chinese fighters and bombers from entering the airspace. 170 times, on average nearly 2 times per day. Now we have to mobilize fighters to intercept them about 700 times a year, more than during the Cold War, "Kono detailed.
Other Chinese actions in the South China Sea, such as the sinking of a Vietnamese fishing vessel in April 2020 or harassment of the Philippines and Malaysia, according to Mr. Kono, are entirely on China's intentions: to change the status quo in East Sea and East China Sea.
"We have also seen what happened in Hong Kong and the Sino-Indian border. Beijing has the real capacity and intention to change the status quo by force. We must be vigilant and watch over the actions of China. China sees what they want, "the Japanese minister asked.
"Japan, along with its ally the US, is ready to obstruct China's intention to expand," said Kono.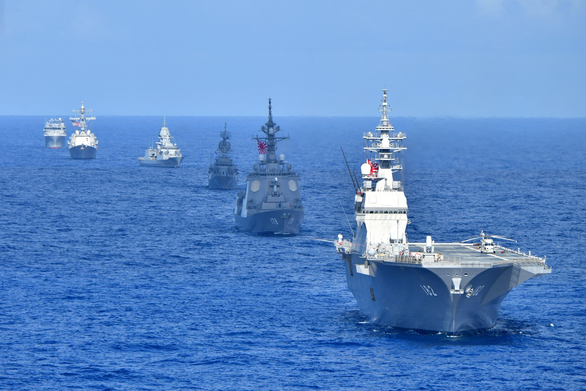 The Japanese aircraft carrier JDS Ise (DDH-182) leads multinational warships to participate in the RIMPAC 2020 exercise off the US Hawaiian Islands – Photo: Ministry of Defense of Japan
The participation of "like-minded" countries in "efforts to preserve international order based on common norms", according to the Japanese minister, was very important because the United States alone could not oppose China.
"China's economy is growing, along with spending on the military. One day those numbers will exceed that of the US."
"If we want China to pay the price for acts that violate international law, we need a larger mechanism for the region, even the global," said the Japanese defense minister. institutionalized "Quadrilateral Diamond" including the US, Japan, India, and Australia.
On the question of whether the US would jump in if China occupied the disputed Senkaku / Diaoyu archipelago with Japan in the East China Sea, Mr. Kono said he was "ready to fight".
"If we don't fight there will be a second South China Sea there. We have seen what in the South China Sea already.
When China blatantly began renovating and reclaiming artificial islands there, the international community did not do anything to stop them. Similar things will be able to repeat anywhere, in the Middle East or even Europe, "the Japanese minister warned.
"Nobody wants war"
According to Mr. Kono, Japan is trying to establish a hotline with China in case of crisis or miscalculation that lead to conflicts. "Nobody wants war," Mr. Kono shared with an American researcher on September 9 evening.
"Dialogue and communication are a good way to avoid war, but being transparent is what matters most. I think it will take a lot more work to have such a liaison mechanism. But until China realizes that, Japan will have to show them the determination to defend every centimeter of its territory, "Japan's defense minister closed the matter.