They broke the contract and did not pay compensation.
Barcelona played their first matches under Kuman: Messi is back in the squad and scores elegant goals, the team confidently defeated Gimnastic and Girona (both times 3: 1). The problems seem to be temporarily resolved.
Not really. COPE journalists found out that Ronald Koeman cannot be present on the bench in official matches – he was forbidden by the Spanish Football Federation. The reason is paradoxical: Barcelona did not officially terminate the contract with Quique Setien, although Bartomeu announced his resignation on August 17 after the defeat to Bayern (2: 8).
Shortly thereafter, Barcelona officially fired Setiena. Further – different versions from newspapers.
• Diario Sport says Koeman can now sit on the bench.
• Marca clarifies (the version sounds more plausible): this is possible only if Setien and Barcelona sign a settlement agreement. It's very difficult to imagine this.
Setien received the documents a month later. Will now go to court to seek compensation
The situation pissed off Setien. It turned out that the documents were sent to him only in mid-September, there was no calculation either.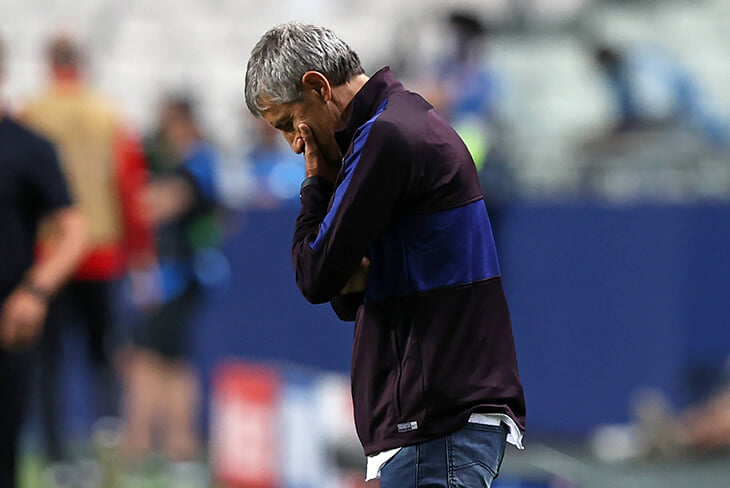 "After a month of silence on the part of the Barcelona board of directors and after various requests from our side, only yesterday we finally received the first official messages through bureaux," the coach tweeted. – The messages received demonstrate a clear intention of management not to comply with the employment agreements dated 01/14/2020.
In the case of me, Kike Setien, it is publicly well known that on August 17 both the club and the president announced my dismissal. But only yesterday, September 16 (a month later), for the first time they sent me a written message about the said dismissal (without calculation).
As for the rest of the coaching staff, they, too, yesterday, to our surprise, were informed about the future reshuffle. "
Immediately after Kike's announcement, his twitter changed: an avatar with a red clown nose appeared, and the background photo now shows cows.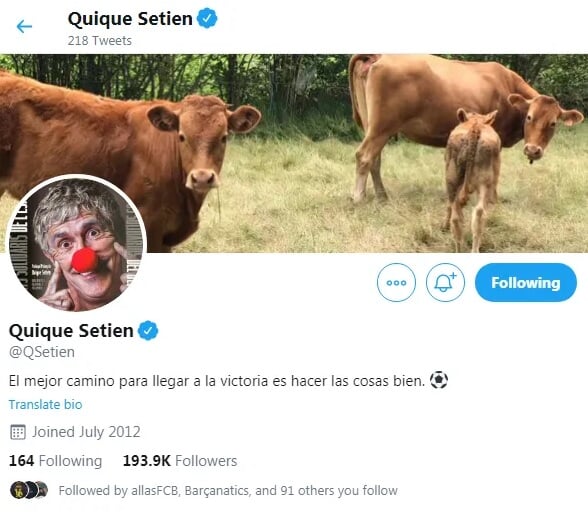 In the case of the avatar, one might think that this is the desire of Setien himself – with a clown nose, he starred for the cover of the book "Stories of Solidarity in Sports", for which the coach wrote the prologue. But the cows are a nod to Setien's flamboyant quote.
"Yesterday I walked among the cows in my city, and today I am at Barcelona and manage the best players in the world," Kike said at the first press conference.
Kike will go to court to receive the compensation assigned to him and the headquarters. Setien demands that the club pay him an annual salary (that is, the full value of the contract) – Barcelona believes that the coach did not achieve the promised results, and therefore has no right to compensation.
Barcelona kick off in La Liga on 27 September. The club has a week to resolve issues with Setien.
Photo: REUTERS