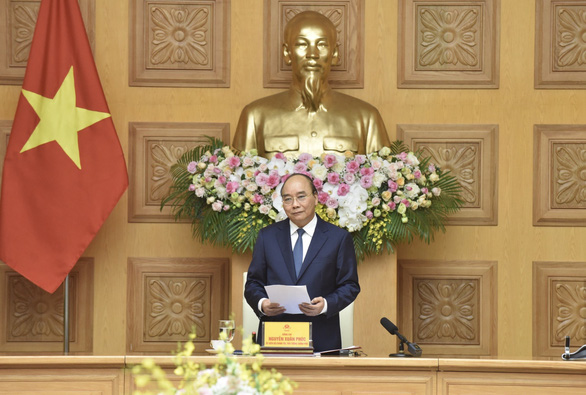 Prime Minister working with Japanese enterprises
On September 7, Prime Minister Nguyen Xuan Phuc worked with Japanese enterprises. Attending were some leaders of the ministry, Ambassador Extraordinary and Plenipotentiary of Japan to Vietnam Yamada Takio, and Japanese economic organizations.
The market is large enough for business to invest
Appreciating the Government of Japan and the great contributions of Mr. Abe Shinzo in the development of a deep strategic partnership between the two countries in recent years, the Prime Minister said that in the context of the epidemic, the Government of Japan has promptly made a decision to support overseas supply chain diversification.
Notably, out of 30 Japanese enterprises receiving initial support, up to 15 enterprises wish to expand their investment in Vietnam. Therefore, the Government has always appreciated the role of the Japanese business community, Responsible and serious investors, doing business effectively, contributing to the budget, focusing on environmental protection, taking care of the lives of workers.
The National Assembly of Vietnam has passed the Law on Investment, Enterprise Law (amended), the Law on PPP Investment with many new features, transparency, advantages, investment incentives … Especially, the commitments of high standard FTAs ​​such as CPTPP, EVFTA, Vietnam will be an attractive investment destination with an advanced international standard investment environment.
"Vietnam market is large enough for ambitious business investment plans, in line with the global and regional supply chain restructuring and shifting strategies of international investors, especially Japan. Version "- said the Prime Minister had command reopening commercial flights to some places with high safety ratios, including Japan, with a streamlined and convenient immigration process.
According to Japanese ambassador Yamada Takio, Vietnam's economy has grown very quickly and has also affirmed its position in the international arena. The Vietnam-Japan relationship is getting deeper and deeper and especially this month's phone call between the two prime ministers demonstrated a close relationship of trust at the high level.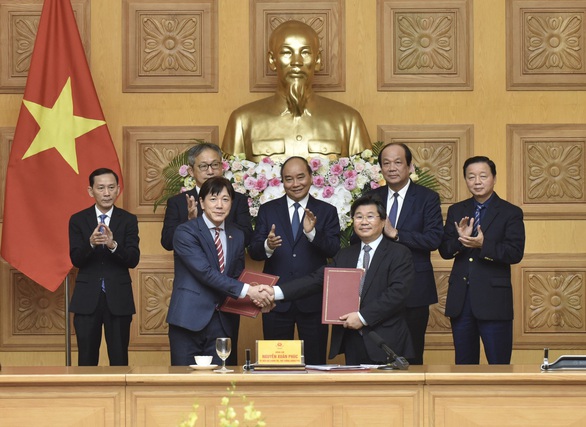 Prime Minister Nguyen Xuan Phuc witnessed the MOU handover ceremony between the Foreign Investment Agency (Ministry of Planning and Investment) and Jetro Vietnam
Expanding investment incentives
In the context of the COVID-19 epidemic showing no signs of stopping, the Ambassador assessed that Vietnam has shown superior risk management capabilities, so he is directly benefiting from the diversification of the supply chain.
"It can be said that investors in the world, in which Japanese enterprises are paying much attention to Vietnam, a place to invest in new normal conditions after COVID-19", said the ambassador and said. JETRO's survey shows that many Japanese enterprises are considering relocating their production bases to Vietnam.
The representative of JCCI proposed to create an investment incentive mechanism suitable to the characteristics of Japan's manufacturing and manufacturing industries and build energy infrastructure in the PPP mode, allowing Japanese enterprises to contribute capital. Vietnamese state-owned enterprises.
At the same time further expand the incentive mechanism for advanced technologies as well as businesses to expand investment in a large scale, building preferential mechanisms for a production chain, not just one enterprise.
The Prime Minister asked ministries, branches, and localities to quickly remove problems within their competence, not to delay. At the same time, he affirmed to create all conditions for the investment expansion of 15 Japanese enterprises in the first phase to be deployed most smoothly as well as to better prepare for the next investment phase.
The fields of investment cooperation
Japanese enterprises raised many issues in investment cooperation in Vietnam such as human resources, development of a number of new fields, supporting industries, research, and development …
Meanwhile, Vietnam wishes to expand cooperation in investment in infrastructure, energy, manufacturing, high-quality agriculture, information technology, smart cities, financial services, banking, a start-up based on innovation as well as join a strategic partner to equitize state-owned enterprises in Vietnam.