La Française des Jeux and other lottery operators in Europe will offer a first Euromillions mega jackpot this Friday, February 5, 2021, indicates the Tirage-Gagnant.com site. Like a particularly flourishing year 2020 for Euromillions players with 4 events throughout the year (excluding the confinement period), will the year 2021 offer as many Euromillions super draws at 130 million? euros? Perhaps…
European players are called upon to try their luck this weekend in front of a Euromillions jackpot which should bring a smile to a few lucky few who will be able to get their hands on no less than 130 million euros, a "boosted" jackpot now considered a standard during these special events. In France, Spain, the United Kingdom and all the countries of the Euromillion community, bets are open and millions of grids will be ticked.
Mega Jackpot Euromillions: 130 million euros at stake this February 5, 2021
While the last Euromillions draw on Tuesday February 2, 2021 featured a prize pool of 40 million euros which was not won, the draw of this Friday 5 February 2021 should not have counted on more than 56 million euros. This Euromillions mega jackpot offered by gambling operators therefore adds more than 70 million euros to the current jackpot, bringing the stake of this February 5 to 130 million euros, a record since the historic drawing of the 4 December 2020 and its French winner at 200 million euros.
How to play a grid for this Euromillions mega jackpot?
If you wish to have a chance to win this big jackpot of 130 million euros on Friday night, you will need to have ticked a grid for € 2.50. There are several solutions available to you for this, starting with online gaming.
Play Euromillions online in 5 minutes
To play Euromillions online, you will simply have to be of legal age (over 18 when you register online), then you will need to have an address in France and finally a bank account in one of the countries of the European Union. . Then, the steps to tick your Euromillions grid for this February 5, 2021 on the internet are extremely simple.
Log into your FDJ.fr account or register here in a few minutes.
Pay a few e-credits via your bank card in a few seconds (the credit will be automatically added to your player account). The minimum online deposit is € 5, but you can only play one grid if you want.
Navigate on the FDJ.fr site or via the FDJ app and go to the "Euromillions" tab. Select your favorite numbers here or leave it to chance with a flash system (5 numbers and 2 stars are to be checked). It should be noted that several other methods of play exist, so you can play in a group or tick a multiple grid.
Validate your bet and find your automatically generated My Million code in your game history available on your FDJ account.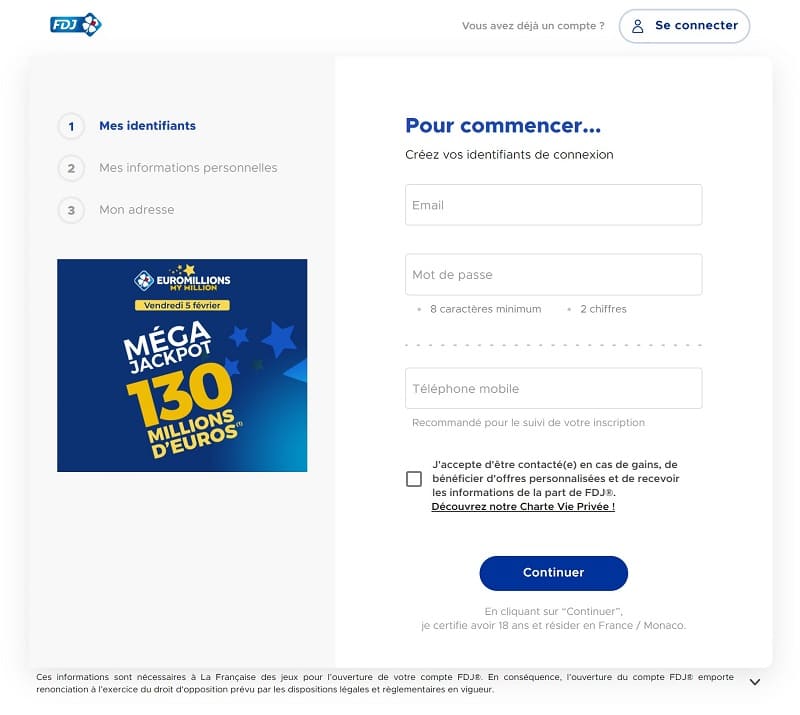 Play in Point of Sale at Euromillions My Million
If you prefer to opt for the more classic version of the European lottery, you will be able to participate in the draw on February 5, 2021 by playing a grid at your tobacconist.
To do this, simply tell him that you want a grid for this Friday night in flash if you want to leave it to chance, or else tick a "blue" sheet available in each point of sale with your lucky numbers.
As for the online version, each Euromillions My Million grid validated in store will cost you € 2.50 and will allow you to play the My Million raffle.
Please note: with the curfew, FDJ points of sale close their doors at 6:00 p.m. Online, you can participate until 8:15 p.m.
Where can I find the results of this Euromillions draw on February 5, 2021?
For this Euromillions mega jackpot of February 5, 2021, only the amount of the jackpot will be changed compared to a normal draw. The normal rules of the game therefore apply for the distribution of the draw and access to the result.
Thus, the Euromillions My Million evening will begin for you, players from 8:50 p.m. with the revelation of the My Million code and will end around 10:00 p.m. with the publication of the full earnings report. Below, find the main times to know during a Euromillions draw, they are eligible for the draw on February 5.
8:15 p.m .: stop of Euromillions gambling for this super jackpot in France. Elsewhere in Europe, the end of game taking oscillates between 7:00 p.m. and 8:30 p.m.
8:50 p.m .: announcement of the My Million winning code which will make a millionaire in France and revelation of the region where the winning grid has been checked (if the grid has been checked in Point of Sale), or else announcement of an online winner.
9:15 p.m .: announcement of the winning combination of the Euromillions draw of February 5, 2021 consisting of 5 numbers and 2 stars.
22h00: publication of the first winnings reports in Europe announcing the winnings row by row and indicating whether there was a winner for this mega jackpot of 130 million euros. Follow the result of the Euromillions here on EconomieMatin.fr.
Where do the Euromillions super jackpots funds come from?
Few of the lotteries in the world offer boosted draws like these Euromillions mega jackpots. While some national lotteries like the French Loto are planning "Super Loto" evenings, the European Euromillions lottery is the only multi-state lottery to provide special draws several times a year.
In order to make this possible, you should know that part of the stakes for each Euromillions draw includes a "jackpot fund". It is this jackpot fund that is used to define the dates of the "mega jackpot" events as well as to define their amount. (100 million euros or 130 million euros). In addition to this, it is this jackpot fund that ensures the Euromillions lottery its initial jackpot of 17 million euros.
Currently, the Euromillions fund is very heavily endowed due to several long series of draws without a winner, especially in 2019 and 2020. It's a safe bet that the year 2021 will also offer 4 event draws at 130 million euros, the first being played this Friday, February 5, 2021.
What happens if the Euromillions mega jackpot is not won?
If the Euromillions super draw on February 5, 2021 fails to make a big winner at rank # 1, then his pot will be rolled over for the draw on Tuesday, February 9, 2021 and so on up to the maximum cap of 210 million euros. If it is reached, this new record ceiling can be replayed 4 times in a row before being necessarily won or shared.