Best performance of the day.
"Mercedes" in Formula 1 – it's not only Lewis Hamilton and Valtteri Bottas, who have jumped pole at almost every Grand Prix. The German automaker is also represented by young pilots leased to other teams: for example, the F-3 and GP3 champion Esteban Ocon is now racing for Renault (it seems that the champions have no right to recall him, but the relationship with the Frenchman is still not ripped off), and GP3 and F-2 winner George Russell shines at Williams.
Well, how it shines … At the moment, the legendary British organization is in a severe crisis. In 2018, she earned seven points and took the last place, in 2019 they got only one credit point (and that one – thanks to great luck) and the same tenth place, and now they have 0 points on their account – and the unchanged last position in the Constructors' Cup.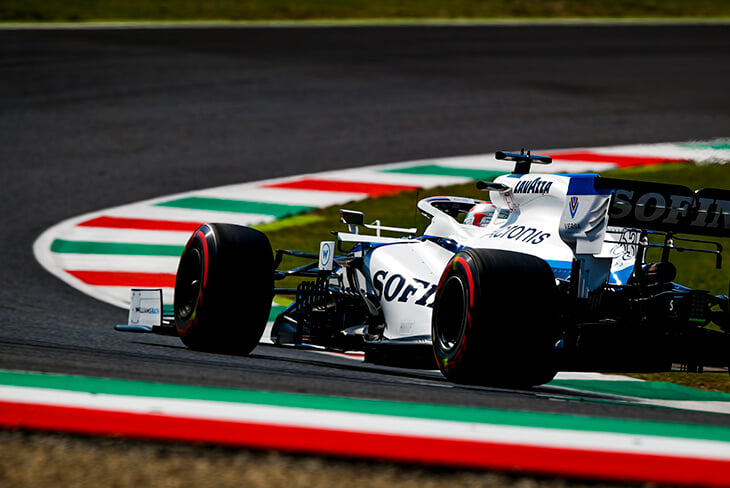 Naturally, with such a car, even Lewis Hamilton or Ayrton Senna would not have succeeded in claiming something significant. But George Russell does what he can: in 2020 he made his way to the second qualifying segment five times, in Hungary and Styria he even started 12th and rolled Ferrari several times.
But the main pride of the Mercedes junior is his qualifying score in the battles with his teammates. Before the Tuscany Grand Prix, Russell had never lost a Saturday in Formula 1 in his career! 29 victories in a row – over Robert Kubica and Nicholas Latifi.
Moreover, with a very significant average lead: the Pole lagged behind George in each qualification by about 0.7 seconds, and the son of the Canadian billionaire is now 0.9 seconds behind. Simply put, the Englishman shows over and over again why he was taken to Mercedes and Formula 1
The billionaire's son is knocked off the track in almost every F1 race. His father sponsors the team for $ 50 million a year
But on the hitherto unfamiliar track in Mugello, everything at first did not go according to the usual plan: in the first qualifying segment, Latifi suddenly turned out to be twice as fast as Russell by 0.1 seconds, putting George's fantastic streak on the brink of completion. No. 63 required all his talent and courage to continue to win – and he rode like this.
George Russell has never been out-qualified by a team mate – somehow, despite this slip in Q1, he maintained that record! 😮 #TuscanGP 🇮🇹 # F1 pic.twitter.com/G1jbwUWNMi

– Formula 1 (@ F1) September 12, 2020
"Where did Russell get so much grip, even on gravel?" – Asked a question the veteran former pilot of "F1" Martin Brandl, looking at the incident.
Yes, the guy flew into the gravel in a decisive attempt due to the desire to drive a corner with full throttle – but he did not give up and continued the circle! And in the end, he still beat his partner again – for the 30th time in a row. Even though it's only 0.1 seconds now.
As you can see, George just dared to fly a bend with the gas to the floor – and did not take his foot off the pedal even after driving on gravel!
"I always liked rallycross a little…" Russell tweeted afterwards. – Many thanks to the team for repairing the car after the third practice! I squeezed out everything I could for your sake … And then a little more! "
Yes, in the last hour of training before qualifying, George did not complete a lap due to brake failure – while his partner rolled out seven (!!!) softest sets of tires, simulating fast laps. Nevertheless, this did not stop the Mercedes junior – and it took only 0.2 seconds to reach the second segment.
By the way, Daniil Kvyat in the second segment tried to repeat Russell's trick with a turn and full throttle – but he flew much further and could not continue the fast lap.
"My balls were too big for this machine." explained he is after the finish line.
George was a little more precise and calculating.
The F-1 racer screams a meme song over the radio at full speed. This is such a check of communication with the command bridge
Mercedes is the worst in F1 in terms of speed on straight lines. Explaining why this does not prevent you from being the favorite of the Grand Prix
Schumacher's son's car was repaired with duct tape. Immediately after the megaseave Mika – tamed the car on the track after flying into gravel
Photo: globallookpress.com/Hoch Zwei / Keystone Press Agency