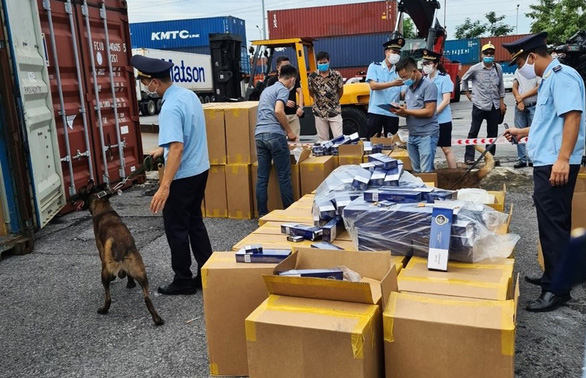 The functional force used sniffing dogs to check a shipment of cigarettes including more than 1 million fake bags of brand 555 – Photo: MAI CHI
Exchange with Youth Online On the evening of September 11, Mr. Nguyen Sy Trang – Deputy Director of Hai Phong City Customs Department, confirmed that this unit and a number of functional forces detected and handled batches of illegally imported counterfeit 555 cigarettes. more than 30 billion.
The shipment consists of 2 containers transported on board Bright Laem Chabang -1825N from Shianoukville port, Cambodia to Dinh Vu port, Hai Phong city by the end of 2019.
Although arriving at Dinh Vu port, for a long time, no one has come to clear this shipment, so the authorities have checked it. The test results in the two containers mentioned above have a total of 2,060 packages with more than 1 million packs of 555 fake cigarettes.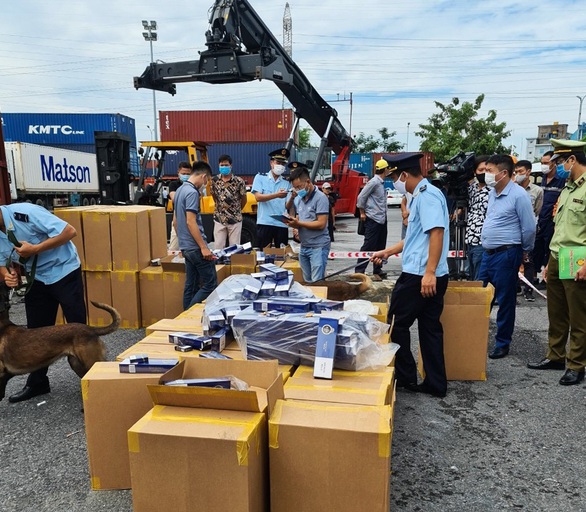 The largest number of counterfeit cigarettes ever discovered in Hai Phong city – Photo: MAI CHI
Through checking the customs information, the unit under the name of the consignee is a business in Mong Cai city, Quang Ninh province, but this enterprise refused to accept the shipment. Therefore, the above smuggled goods are confiscated and destroyed according to regulations.
Mr. Vu Thanh Tuan – Deputy Head of Hai Phong City Customs Enforcement Team, said that this is the biggest ever violation of the law on counterfeit goods in Hai Phong. The objects' tricks are increasingly sophisticated when they take advantage of the loopholes in the goods clearance to commit acts of smuggling in large quantities.