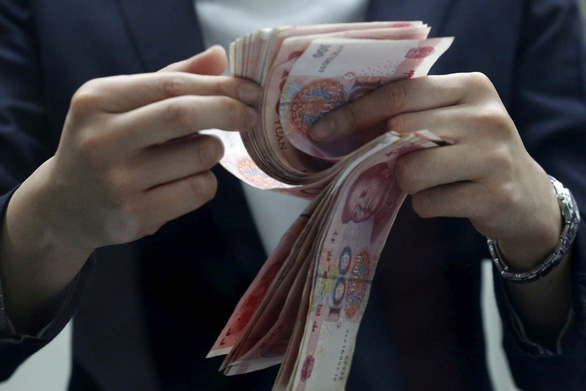 The influence of the yuan may increase amid China's accelerating financial market opening – Photo: REUTERS
The influence of the yuan will increase in the next 10 years amid China opening up the financial market more widely and promoting moves to reduce dependence on USD, according to Morgan Stanley.
The bank's team of analysts, led by Robin Xing, predicts that foreign investors will look to China for yuan-denominated financial assets. The total value of these investments could reach $ 3 trillion by 2030.
Meanwhile, the yuan could hold 5-10% of its total foreign exchange reserves by 2030, up from 2.02% as of the end of March 2020 announced by the International Monetary Fund (IMF). .
Morgan Stanley believes that this potential level can surpass the Japanese yen and the British pound, making the Chinese currency the third largest global currency, just behind the USD and euro.
"This target (5-10%) is not impossible in the context of China opening up the financial market, promoting cross-border capital market integration … and transaction rate. [NDT] China's cross-border is also increasing, "said Morgan Stanley.
The US-China tensions will prompt Beijing to quickly consider efforts to boost the role of the yuan in the international market, analysts said.
The new report also paints a bright outlook for the yuan. However, the South China Morning Post on September 8 stated that the actual use value of yuan in the world market is still limited, partly because of China's capital control policy.
Discussions in China regarding overseas consolidation of the yuan have heated up in recent months, when Washington threatened financial sanctions against Chinese individuals and organizations.
The US side gave many reasons for these sanctions, including protecting US national security, issues surrounding new national security law in Hong Kong and human rights violations in Xinjiang.
The above sanctions may include prohibiting participation in payment systems in USD or the US market.
China policy advisers have made a series of proposals to reduce dependence on USD, in which it is recommended that Beijing can turn Shanghai into the global financial center for financial products. in yuan.
In addition, many ideas are also raised about building China's own generation of cross-border payments to serve overseas investments, as well as creating its own digital currency. .