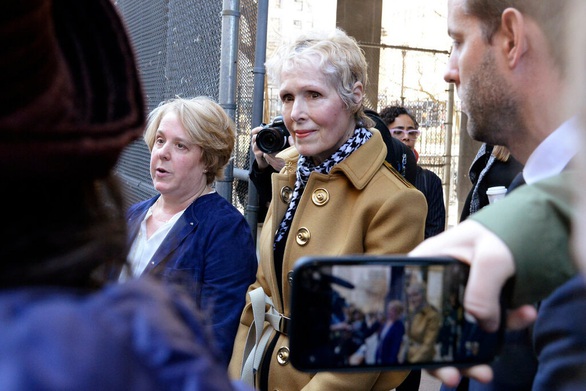 Mrs. E. Jean Carroll (center) sued Mr. Trump for deceiving the people and defaming her after he confirmed there was no way he raped her – Photo: AFP
The US Department of Justice on September 8 began the procedure to replace Mr. Trump's private group of lawyers, a move that the New York Times called "extremely unusual". The Department of Justice's team of attorneys also cited a law requiring the transfer of cases from state court to federal court.
The incident began with a memoir by Ms. Carroll that was published in June 2019. In it, she claimed to have been raped by Mr. Trump in the dressing room of Bergdorf Goodman, a high-end department store in Manhattan in late 1995 or early 1996.
Mrs. Carroll, a longtime writer for Elle magazine, said security cameras captured the two together before the incident. President Trump later denied in an interview with The Hill in the Oval Office in June 2019.
In November 2019, Mrs. Carroll filed a lawsuit against Mr. Trump, accusing him of deceiving the people and defaming her by publicly saying "she is not my taste".
In a petition to the court, the US Justice Department said that because Trump made a denial while in office, government attorneys had an obligation to protect him in the case.
Trump's private attorneys had previously tried to persuade the court to dismiss Mrs. Carroll's claim. They argued that the Constitution gave the incumbent president immunity from civil lawsuits in state court.
Some legal experts have criticized the US Department of Justice's move, arguing that it is improper to use taxpayers' money to defend a person's wrongdoing at a time when he or she has not made a total system.
Writing on her personal Twitter September 8, Ms. Carroll accused Mr. Trump pressuring the Attorney General William P. Barr, while her lawyer accused the Trump group of deliberately delaying the post-election.
According to the New York Times, the delay will benefit Mr. Trump, as it will prevent any embarrassing secrets from leaking out before the election. The US Department of Justice declined a New York Times request for comment.
During the 2016 election, Mr. Trump must publicly apologize for indecent statements about women. Trump's talk with a 2005 host, somehow being secretly taped and announced by the Washington Post, faced a series of criticism.
Despite the effects of this recording, Mr. Trump still won against rival Hillary Clinton.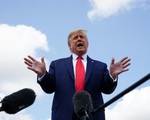 Mr. Trump is ready to take out his own money to run for election