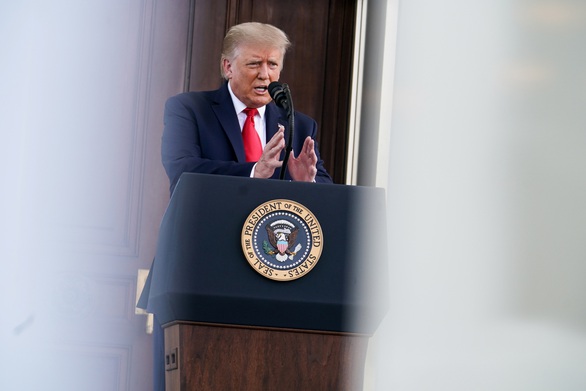 US President Donald Trump comments and answers questions from the press at the White House on September 7 – Photo: REUTERS
On September 7, US President Donald Trump once again raised the idea of ​​separating the US economy from the Chinese economy. He said the US would not lose much money if the two largest economies in the world no longer do business, according to Reuters.
"When you mention the word" decouple ", it's an interesting word," – President Trump said at a White House press conference, as he insisted on bringing the job from China to America.
"We have lost billions of dollars. If we do not do business with them (China), we will not lose billions of dollars. It is called 'dissociation'."
Mr. Trump – previously praising his good relationship with Chinese President Xi Jinping as he seeks to reduce the trade deficit between the US and China – is now showing tougher towards China during the election. imminent US president.
He also accused Democratic presidential candidate Joe Biden of being weak against China. "If Biden wins, China wins because China will own this country" – Mr. Trump said.
In the latest statement, Mr. Trump also threatened to punish any US company that creates jobs abroad and prevent companies doing business in China from winning federal contracts. He also vowed to hold Beijing accountable for spreading COVID-19 around the world.
"We are going to make America the world's manufacturing superpower and eventually end its dependence on China. Whether it's fragmentation or imposing huge tariffs like I did, we'll conclude. promote dependence on China because we cannot rely on China, "said Trump.
In June, US Treasury Secretary Steven Mnuchin said that an economic split between the US and China would happen if American companies were not allowed to compete on a fair basis in China.
Analysts believe that the two US-China economies are so closely related that a separation is impossible. However, Washington will continue to pressure Beijing to level the playing field.