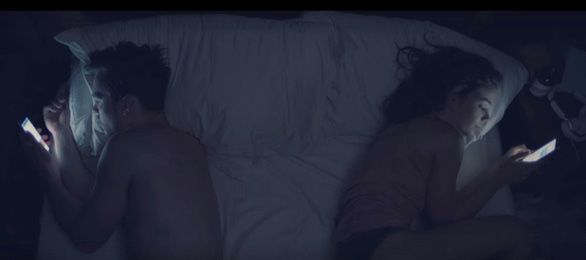 Nicholas Hoult and Laia Costa in the movie Newness – Photo: NF
Newness is a modern romantic film about such a couple.
Honest and unpolished but also director Drake Doremus's judgment of modern love – which excites viewers – especially how the couple accept the consequences of a mistake to next step…
Love alone is not enough
When in a relationship, do you ever find yourself in a couple-like situation in this movie: after sex (or not), they turn around, glued to their phone, and let for the blue-white light of the touch screen to report boredom, loneliness, fatigue?
Perhaps almost any couple in the world today are sometimes falling into such cases.
In the novel The brutal land and the end of the world, Japanese writer Haruki Murakami once wrote: "Two people can sleep together on a bed, but they still feel lonely when their eyes are closed".
In the indie film NewnessTwo lonely guys in Los Angeles, a crowded and chaotic city in America, find each other after manic swipes on a dating app.
Martin (Nicholas Hoult) is a handsome American pharmacist, and Gabriella (Laia Costa) is an assistant physiotherapist from Barcelona.
They are modern citizens who enjoy a bohemian and unbound life. But after that meeting and making love quickly, they fall in love because the harmony is not only the physical but also the emotional bond of love. Gabriella decided to move to Martin's apartment for a living.
But like all passionate love but not enough to understand each other, they face challenges. Gabriella did not accept that Martin was hiding some secrets; while Martin thinks that these are private things that do not need to be declared. Angered by feeling betrayed, Gabriella moved out of Martin's house.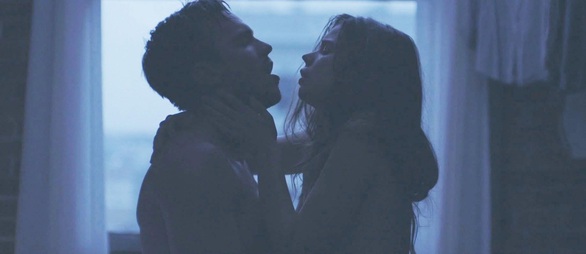 Martin (Nicholas Hoult) is a handsome American pharmacist, and Gabriella (Laia Costa) is an assistant physiotherapist from Barcelona.
More freedom and more empty
But then their passionate physical relationship gave each other another chance. And when they got back together, Gabriella made a suggestion: they had to make all their private secrets public.
Gabriella also made the next bold proposition: turning their relationship into an "open relationship" – allowing for the greatest degree of sexual or emotional experiences with an outsider. that they agreed to in advance.
Meanwhile, Martin has yet to get rid of obsession with his first marriage, which broke down because of the two's mistakes and sought to reconnect with his ex. That was when their open relationship pushed them both sides of the nightmare bed …
Naked Newness describes relationships in an age where technology dominates emotions, young people are free, bohemian but also more lonely and empty. They easily find a new relationship but it is difficult to keep together.
And it was only when they became disillusioned with out-of-flow relationships, as the middle-aged business man told Gabriella that "don't be delusional about relationships, they're mere exchanges" that they wake up. dream.
In this indie film, director Drake Doremus does not hesitate to describe the two main characters as imperfects, often making mistakes, even selfish and pragmatic, but perhaps thanks to that we can see. the human aspect their.
And it is important that after each person's wrong experiences, at least they finally come to terms with the truth about a modern relationship so that they no longer have any illusions about it. Instead of being in a coma, turning their backs on one another; they dare to look into each other's eyes for a conversation:
"I'm afraid we're bored again," Gabriella said.
And Martin replied, "It's okay. It's okay!"
Because what do you have to have relationships that don't have both boring moments?
Newness is an independent film by young director Drake Doremus, who won the Grand Jury Prize at the 2011 Sundance Film Festival with the movie Like Crazy, about a passionate love affair of a young couple divided by distance. physical.
Like Crazy is partly based on the director's personal experience, so it's private and special. Newness is more popular and universal. Who among us never thought of the "strange thing", "the grass is always greener on the other side of the hill" until the illusion is shattered?
Both of these films are modern love stories. Both are very real, escaping the cliché and the "happy ending" of the rom-coms in the world.