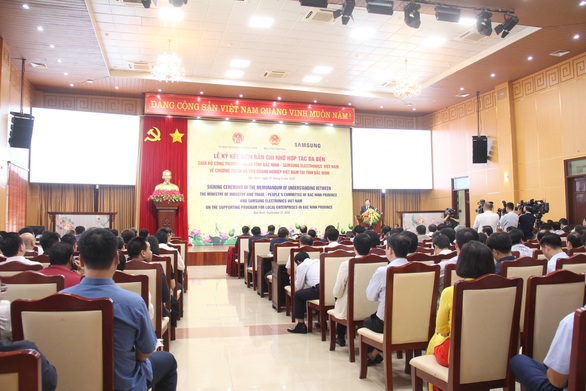 The signing ceremony of the tripartite cooperation to promote the development of supporting industries – Photo: N.KH.
On September 21, the signing ceremony of a Memorandum of Understanding between the Ministry of Industry and Trade – Bac Ninh Province – Samsung Vietnam on the Vietnamese business support program to advise on enterprise improvement and supplier development, took place in the witness of Deputy Prime Minister Trinh Dinh Dung and Mr. Park Nowan, Ambassador Extraordinary and Plenipotentiary of Korea to Vietnam.
According to the memorandum, the program to support Vietnamese businesses in Bac Ninh province is implemented in 5 years (2020 – 2025), including the business improvement consulting program and the supplier development program – for the first time. done by Samsung in a locality.
Enhance the role of locality, leading enterprises
Samsung experts will directly survey, evaluate and Vietnamese businesses directly consult and work to improve production processes, complete standards in the supply of products and components to participate. supply chain for Samsung.
Not only component suppliers, with this program, businesses operating in the area are also given priority to provide products and services in the Samsung production chain in many fields of food, health, and industry. support, transport …
According to him Dao Quang Khai – Vice Chairman of Bac Ninh Provincial People's Committee, Samsung is an important partner to invest 9.3 billion USD out of 19.8 billion USD in local capital. Although the province has had many supportive activities, domestic enterprises are still unable to participate in supplying Samsung, the reason is due to the lack of a strong cooperation mechanism.
Mr. Do Thang Hai – Deputy Minister of Industry and Trade – also said that he has implemented a cooperation program with Samsung since 2018 to support improving productivity and product quality for businesses, training experts, but still limited, has not created the pervasiveness to the Vietnamese supporting industry business community.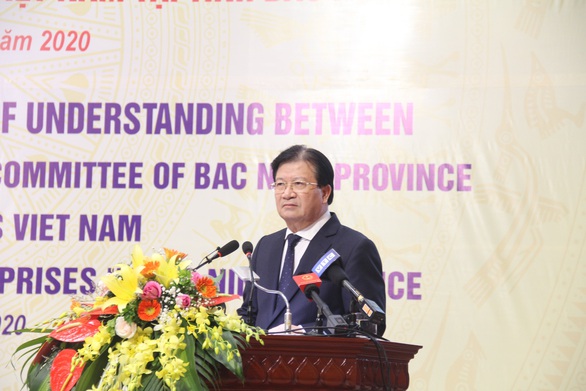 Deputy Prime Minister Trinh Dinh Dung emphasized the need to replicate the cooperation model of Government, locality with enterprises – Photo: N.KH
Need to expand cooperation model
According to Deputy Prime Minister Trinh Dinh Dung, the orientation for the development of the industry in the coming time is that instead of outsourcing, assembling, low added value, will focus on depth, in order to increase localization value, deepening the global value chain.
In particular, supporting industries are the core areas to improve the quality, size and competitiveness of the economy, contribute to creating jobs and improving people's incomes, and escape the middle income trap.
Deputy Prime Minister assessed that this signing event marks the cooperation between the Government, localities and leading enterprises, is a good model that needs to be replicated to promote development of supporting industries.
Mr. Trinh Dinh Dung suggested the Ministry of Industry and Trade to concretize programs and commit to effectively implement and improve relevant institutions, with centralized support mechanisms such as capital, human resources, market and operational effective business support centers.
The locality also needs to focus resources to attract FDI effectively, improve the business investment environment, and build a technical support center for businesses.
For investor Samsung, the deputy prime minister proposed to further improve the domestic value of products through developing domestic suppliers, creating favorable conditions for domestic businesses to participate. Therefore, domestic enterprises also need to reorganize production and improve quality to participate more deeply in global supply chains.