Asian stocks flourished in the first trading session of September 14 when attention focused on the purchase and sale between Softbank Technology Group and chip maker Nvidia.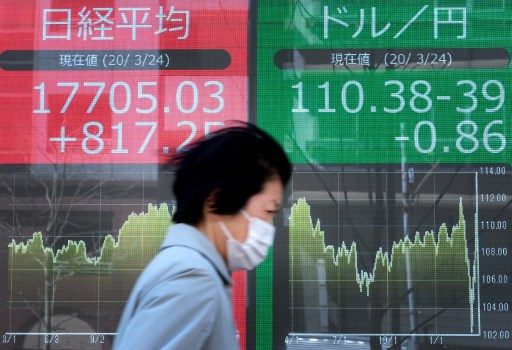 The Nikkei 225 increased by 0.65% at the beginning of the session on September 14. Photo: AFP
Japanese market recorded the Nikkei 225 up 0.65% at the beginning of the session while Topix inched stronger with 0.84%. Shares of Softbank Technology Group soared this morning 10.26% after the company announced it was going to sell its chip design unit Arm Holdings in the UK to US chip maker Nvidia.
Nvidia announced on September 13 that it had agreed to buy Arm Holdings from Softbank for $ 40 billion. This $ 40 billion deal will be paid for in a variety of forms, of which $ 21.5 billion will be paid in Nvidia shares and $ 12 billion in cash, including $ 2 billion paid at the time of signing the agreement. .
Japanese politics has also been the focus of attention for investors since Prime Minister Shinzo Abe announced his resignation. Japan's Chief Cabinet Secretary Yoshihide Suga is seen as the "heavyweight" candidate for the "seat" for the prime minister when the ruling Liberal Democratic Party (LDP) is scheduled to hold a new leadership election on September 14.
Green also covered the Korean market this morning with the Kospi up 1.23%. Mainland Chinese stocks gained early in the session with the Shanghai Composite Index inching 0.26 percent and Shenzhen Component up 0.484 percent. On the Hong Kong stock exchange, the Hang Seng index rose 0.44%.
Australian stocks this morning also kept the green with the S & P / ASX 200 index up 0.5%. The Australian market this morning recorded that shares of Macquarie Financial Investment Group fell 3% after the company estimated that the profit in the first half of 2020 "evaporated" by 35%.
Overall, the MSCI Asia-Pacific (excluding Japan) rose 0.55%.
The US dollar index against other major currencies rose from 92.7 in the previous week to 93,247. Japanese yen this morning slipped slightly to 106.12 JPY / USD from 106 JPY / USD set at the end of last week, while the Australian dollar inched up 1 AUD for 0.7278 USD.
Oil prices on the Asian market this morning recorded opposite movements. Futures Brent oil prices slipped slightly to $ 39.80 / barrel, while US crude oil futures prices rose 0.24% to $ 37.42 / barrel.