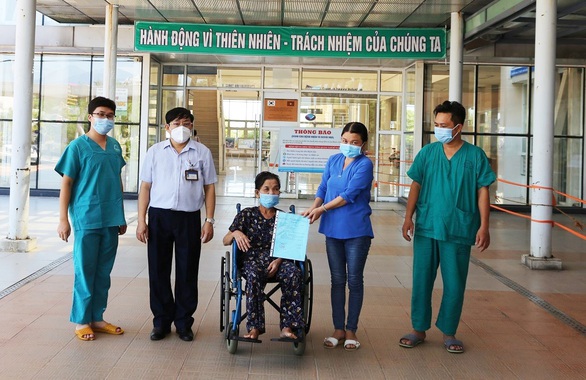 Patient 624 was discharged – Photo: LE TRUNG
On the morning of September 11, Mr. Mai Van Muoi – deputy director of the Department of Health, head of the COVID-19 treatment subcommittee of Quang Nam province – said the same morning, Quang Nam Central General Hospital held the announcement of cure. and discharge patient 624.
Patient 624 is a 69-year-old woman living in Cam An ward, Hoi An city, Quang Nam province, who was declared infected with COVID-19 on August 3. This patient was admitted to the hospital in Da Nang's renal – endocrine – endocrine department since July.
Mr. Muoi said that this patient was paralyzed due to the sequelae of stroke, had many background diseases such as diabetes, hypertension, gastritis, weak paralysis, most of the time needed care. at the ICU (intensive care).
After more than a month of treatment, to date the patient has recovered from COVID-19, all tests have been negative. However, due to the underlying disease, this patient needs to be cared for at home by a family member, unable to eat, drink, or walk by himself.
From the end of July until now, hospitals in Quang Nam have received and treated 96 patients infected with COVID-19, with 73 patients were cured and discharged.