On the morning of September 16 (Vietnam time), the General Assembly of the United Nations held the closing session of the 74th term and opened the 75th General Assembly.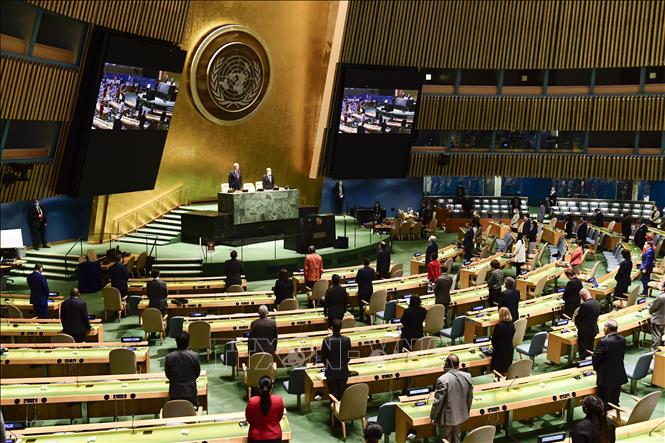 The scene of the first plenary session of the 75th UN General Assembly. Photo: Huu Thanh / VNA
In his remarks, United Nations Secretary General António Guterres emphasized that the 74th General Assembly was held in the context of the world facing the COVID-19 pandemic and this is not happening in the precedent of the Federation. United Nations. However, over the past 7 months, the United Nations General Assembly has adopted more than 70 important resolutions and decisions, including the resolution "Comprehensive response and coordination with pandemic COVID-19". Many countries care and support.
Chairman of the 74th General Assembly Tijjani Muhammad-Bande thanked all countries for their support over the past year, urging the United Nations General Assembly to overcome difficulties and resolve international problems.
President of the 75th United Nations General Assembly Volkan Bozkir emphasized the important role of the multilateral system and international cooperation. He said he would focus on promoting the multilateral system to work effectively, building trust and consensus among the members of the General Assembly.
Mr. Volkan Bozkir said he would care for the most vulnerable, strengthen humanitarian aid activities in conflict areas, empower women … and also pledged to strive to promote the role of The United Nations General Assembly in cooperation with countries and regional organizations to promote the sustainable development of the international community.
On the eve of the 75th UN General Assembly Week, President Volkan Bozkir pledged to fulfill his role in organizing the 75th Anniversary Conference; General discussion session of the 75th United Nations General Assembly; The Summit on Biodiversity; Summit Meeting 25th Anniversary of the 4th World Conference on Women; and the Summit to celebrate and promote the International Day of the complete elimination of nuclear weapons.
During the 75th session, Mr. Volkan Bozkir will also give priority to organizing two special sessions on the COVID-19 pandemic and anti-corruption.