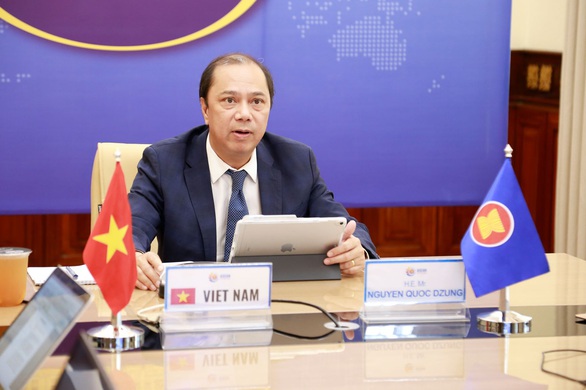 Deputy Minister of Foreign Affairs Nguyen Quoc Dung – Photo: BNG
The COC is expected to be a legally binding code of rules, thereby playing a fundamental role in managing disputes in the South China Sea, establishing law-based order, and maintaining peace and stability. in the area.
In the context of the recent tense South China Sea situation, the COC negotiation is expected to be one of the hot spots, playing a key role at the 53rd ASEAN Foreign Ministers Meeting, taking place in the form of online 9-12 September.
Answer your question Youth Online At the press conference on AMM 53 and related conferences on the afternoon of September 7, Deputy Minister Nguyen Quoc Dung emphasized that "COC is still ASEAN's priority", despite the COVID-19 epidemic, negatively affecting the negotiation process said this set of rules last time.
"The COC is still ASEAN's priority. Due to the COVID-19 epidemic, the COC negotiations have stalled for a long time. All parties are impatient. Given the nature of the COC negotiation, it is difficult to organize meetings online.
However, recently we still have a number of online meetings, not in-depth about the content, but still discussing how, on how to resume the negotiations as well as the goals …
We have agreed on a few points so far on how and look forward to resuming COC negotiations soon, "he said.
Deputy Minister Nguyen Quoc Dung is the Head of SOM ASEAN Vietnam and is also the secretary-general of the ASEAN National Committee 2020.
AMM 53 includes ASEAN senior ministerial meetings as well as between ASEAN and partners. The main contents of these events include reviewing the situation of ASEAN cooperation and community building, especially the implementation of agreed priorities and initiatives for 2020, as well as the cooperation in response to COVID. -19.
ASEAN and its partners will also discuss the development of foreign relations on the basis of ensuring ASEAN's central role, and exchange on international and regional issues of mutual interest.
In addition, the two most anticipated events in this work chain are the East Asia Foreign Ministers Summit (East Asia Summit – EAS) and the ASEAN Regional Forum (ARF) Senior Officials Meeting. 27th.
AMM 53 and related meetings are among the most important of the ASEAN 2020 Presidents of the Year.
The conference took place in the context that the world and the region continued to be complicated by fierce strategic competition between major countries, increasing tensions in some hot spots; COVID-19 epidemic with new infection waves, causing many negative impacts on socio-economic life of ASEAN member countries.
Although ASEAN cooperation has been influenced by the COVID-19 epidemic, Vietnam has been striving to fulfill at the highest level the ASEAN presidency, proposing many initiatives, maintaining and promoting cooperation. work in both disease prevention and community building, strengthening ASEAN's external relations and strengthening ASEAN's central role.