Sticking out its tongue at the coronavirus pandemic, the legendary rock band Rolling Stones has opened its first store in the world in London, in the heart of the Soho district which saw the British music scene flourish in the 1960s.
«Why open a store in the middle of a pandemic? It is our eternal optimism », joked the leader of the band, Mick jagger, 77 years old, in a video broadcast before the opening.
Inside, the famous Rolling Stones logo can be seen on T-shirts, jackets pick for those who want to emulate the guitarist Keith richards, going through umbrellas and bottles of water.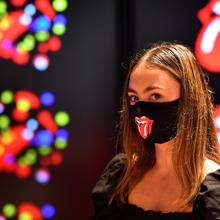 Its line of masks, with the famous tongue, positioned correctly at the level of the mouth, promises to be a success, but the team behind this project hopes it will be more than just a store.
The giant screens replay decades of the band's concerts, while their biggest hits delight buyers' ears.
On the floor, transparent panels with song lyrics reveal the basement. All the decoration faithfully respects the black and red visual lines of the rock group. «It was very important to us that it be quite an experience" Explains David Boyne, CEO of Bravado, Universal Music's product marketing arm.
«My favorite space is the soundproof room with its acoustic panels and big red neon lights», He adds, ensuring that it is an ideal place to take photos for social networks.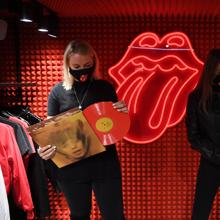 For him, the location of the store, in the heart of Carnaby Street, it was essential. "David Bowie, The Who and of course the Rolling Stones used to hang out in this neighborhood," he enthuses.
"We worked in this neighborhood, we rehearsed there, we used to eat there," explains Jagger in the video, recalling the time when the band "used to go for a walk down Carnaby Street before they got famous."
Since shops closed at the end of March due to the pandemic, curious and patrons have left this area of ​​central London known for its shops, now reopened, but Bravado hopes its long-awaited new store will help revitalize it and give " a big boost to trade ".