Will Smith, one of the most successful actors in Hollywood, began his career with the character of Prince of bel-air And to celebrate 30 years since the series' premiere, the actor has just announced the special opening of the legendary mansion that can be rented for 25 euros per night -for five days- on the Airbnb platform.
It is the house with a white facade, supposedly located in the elite neighborhood of Bel-Air (Los Angeles), to which the young Will Smith came from the neighborhoods of Philadelphia to live with his uncles, but it really is located in the district from Brentwood and is preserved intact.
While most of the interior scenes were shot in a studio that recreated the mansion, the building and its gardens appeared in almost every episode, from the head to the beat of Smith's famous rap.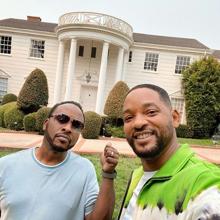 «Ready for the coolest vacation at home? If this place is familiar to you, it is because it is still as spectacular as when I walked through its door, "Smith wrote in the Airbnb description.
"I'm back. And this time I give you the keys so you can have my part of the mansion all to yourself, but touching my collection of sneakers is forbidden, okay? ", Jokes the actor.
Those interested in getting a stay can make their reservation from September 29, although only five groups they will be the lucky ones.